Patchwork kitchen towels are super-easy. They add a pop of color to your cooking space and they make really nice gifts too. If you make one you'll want to make more! You can go wild and coordinate these with your patchwork hot pads.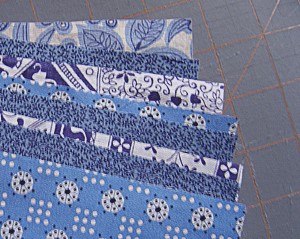 Patchwork Kitchen Towels
First off, find a very basic kitchen towel. Mine is from the dollar section at Target (you can often find them in various colors) and IKEA has them for even less. It helps to have a weave design in the towel that allows you to easily align your patchwork strip, but you can make it straight either way without much trouble.
Step One
Choose some coordinating fabrics. These are for someone with a blue and white kitchen. Cut your fabrics into 5″ lengths. Cut sections of your 5″ lengths and lay them out 'til the series pleases your eye. You might have a piece that's 5″ x 2″ followed by a different fabric that's 5″ x 6″. There's no right way to do this! Occasionally I like to fussy-cut a fabric so part of the design has prominence (like in this set with the birds).
Step Two
Sew your pieces together in a big, long strip. You don't need a very big seam allowance because these seams won't get much wear and tear. Be sure your final strip is longer than the short side of your dish towel.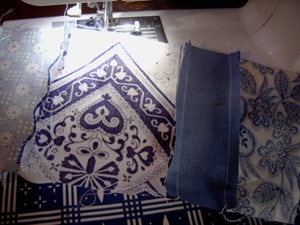 Step Three
Press your seams open.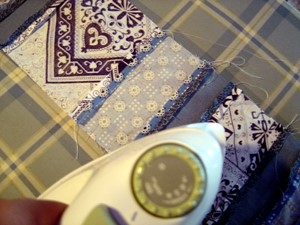 Step Four
Trim the long edges of your patchwork strip so they're super-straight.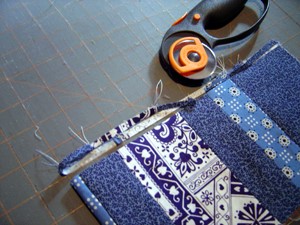 Step Five
Lay the strip on the towel to determine where you should fold your end seams over. You want to press this fold so that it matches up with the edge of your towel. Do the same on the opposite side.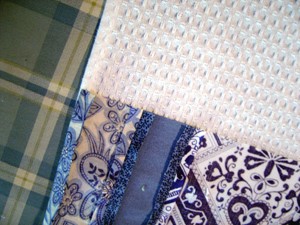 Step Six
Decide where you want the strip to go: set it on the towel, then flip it down so the pretty side of the fabric meets your kitchen towel. If you're using 5″ of fabric your strip will now be approximately 5″ below where you want your final strip. If you have a big waffle weave like I did you probably don't need to pin the strip in place, but you can do so if you think it will help. Sew along the top, long edge of your patchwork strip.
Step Seven
Press the fabric strip up, and press a fold along opposite long edge of your fabric strip. You should now have the strip attached on one long side, with pressed folds on the remaining three sides. Double check that your side folds still match up with the edges of your towel (re-press if necessary).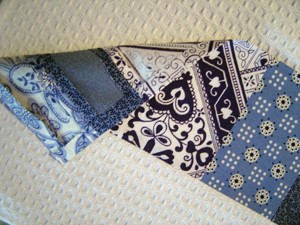 Step Eight
Sew all around the inside of your patchwork strip with a 1/4″ seam allowance. Again, you can choose to pin your strip in place first but it probably isn't necessary. Cut your threads.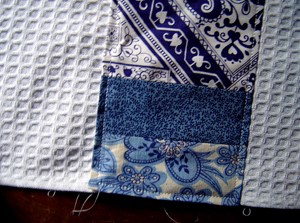 Done! Try another one!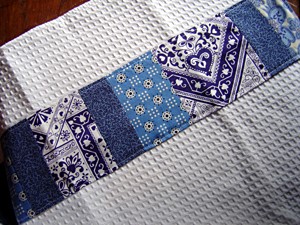 Optional Tip
If you're making a set of towels as a gift, it's nice to throw in a few tea towels (also incredibly inexpensive in sets at places like Target). I like to applique a couple of coordinating fabrics on the tea towels. For these I simply pressed a fold on all of the edges and then did Step Eight above.
Now you're really done!