Every month Elizabeth from Oh, Fransson! shares a new project featuring one of our current fabric collections. We love everything she creates but Elizabeth's quilts are especially wonderful and she has a series of great tutorials on Oh, Fransson! to guide you through various quilting steps. Today's Charm Squares Baby Quilt is a perfect Scrap Buster project and incorporates so much of what we love about Elizabeth's quilts.
Elizabeth's Fabric Focus ~ Charm Squares Baby Quilt

If you don't have a charm pack around, you can make your own with scraps. It only takes a few minutes. Get out your rotary cutter, take a stack of your scraps and simply cut them into 5″ x 5″ squares. You'll need 38 squares for this project.
From Elizabeth: I love to make handmade quilts as baby gifts, but find that I often run out of time. (As I write this, I have a stack of baby announcements on my desk to which I have yet to respond. Yikes!) I wrote this quick and easy quilt pattern with efficiency in mind. It takes advantage of precut charm (5″ x 5″) squares and uses few other materials, cutting out a lot of prep work and making it possible to finish the whole quilt in a single afternoon.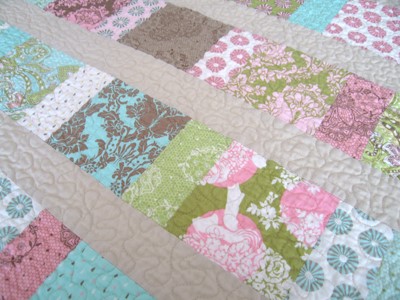 For my quilt, I used a package of charm squares from Tula Pink's Hushabye collection. These cotton candy, kiwi, aquamarine and cocoa prints are perfect for a baby quilt, but have a refreshing level of sophistication. They also include Tula Pink's signature animal motifs, which makes them lots of fun to look at! Essex cotton/linen in Sand makes lovely coordinating sashing.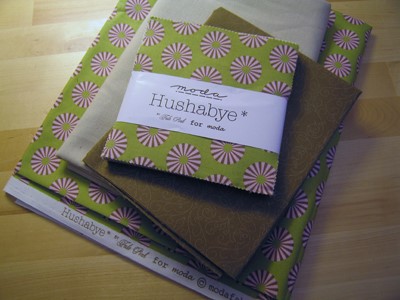 Because precut fabrics like charm squares are not intended to be prewashed, I didn't prewash my binding, backing or sashing fabric either. If you would prefer to use something you can prewash (or just can't find what you're looking for in charm packs) cut 5″ x 5″ charm squares from 1/4 yard or fat quarter cuts of fabric. In general, you can expect to be able to cut 8 squares from 1/4 yard of fabric and 12 squares from a fat quarter.
Regardless of what charm squares you use, machine wash and dry your finished quilt to make it clean, soft and crinkly before giving it to the recipient. As long as you use cotton batting, your quilt will crinkle whether or not you prewash your fabric.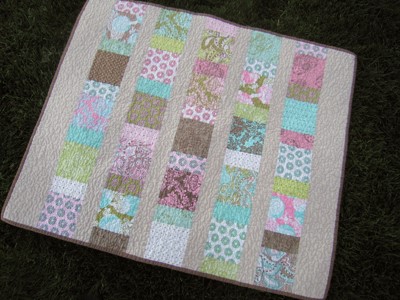 The PDF directions are mainly concerned with piecing. If you're looking for more detailed instructions about quilt construction, I've written about my methods here:
Download your Charm Squares Baby Quilt PDF Pattern and enjoy!