One of my employees, Lauren, recently got married and I was honored to be invited. I love weddings–they're like the birth of a new family. I wanted to give Lauren and Matt a gift that was representative of my best wishes for their future–something that spoke of the children they hope for and new traditions. I decided to make Christmas stockings from one of the vintage quilts in my stash. The old, the new, the traditions, the ho ho ho–it all comes together, right?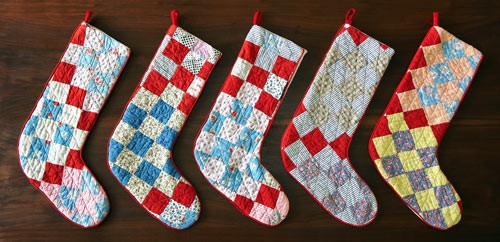 I do own a fabric store, and although I highly encourage everyone to make lots of projects with new fabric (insert winky here), I'm a big fan of making something useful out of vintage quilts. I know there are many quilt collectors who consider it a crime to go at a blanket with a pair of scissors, but I think that if you'll get more use out of it by making something else, then by all means, cut away!
Vintage quilts are pretty easy to come by these days and, although not dirt cheap, they can be fairly affordable on ebay. If you're considering finding a quilt to make some stockings of your own, here are some suggestions.
You might have a hard time finding something with Christmas prints, but it shouldn't be a problem finding one that relies heavily on red or green–they were popular choices in the 40's. Red, especially seems to make an appearance quite a bit no matter what decade. (Many quilts are constructed with patriotic sentiments, so perhaps this is the reason.) The quilt here is the one I used for the stockings. The red really says "Christmas", without being over-the top.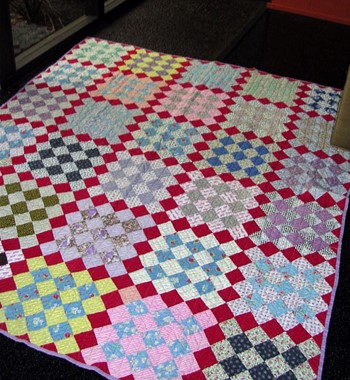 Try to find something that has a variety of prints and solids so the overall feeling is neither masculine or feminine.
If you shop on ebay, try searching for a "cutter quilt". This can mean a lot of things, depending on your definition of cutter, so be sure to look for good images and ask lots of questions. The quilt above had 2 fabrics that were shattered wherever they were used, while the rest of the fabric and quilting was in excellent condition. You should also ask about stains and whether or not the batting is still in good shape. (Sometimes it gets really clumpy in some parts of the quilt.)
I made a basic lined stocking, and added red piping around the outside to give it a little more structure.
If you know of other stocking tutorials, please put them in the comments. Also, feel free to add to my suggestions about shopping for cutter quilts, and/or using them in projects. Happy sewing!
Stockings From A Vintage Quilt