Pattern
Macaron Dress from Colette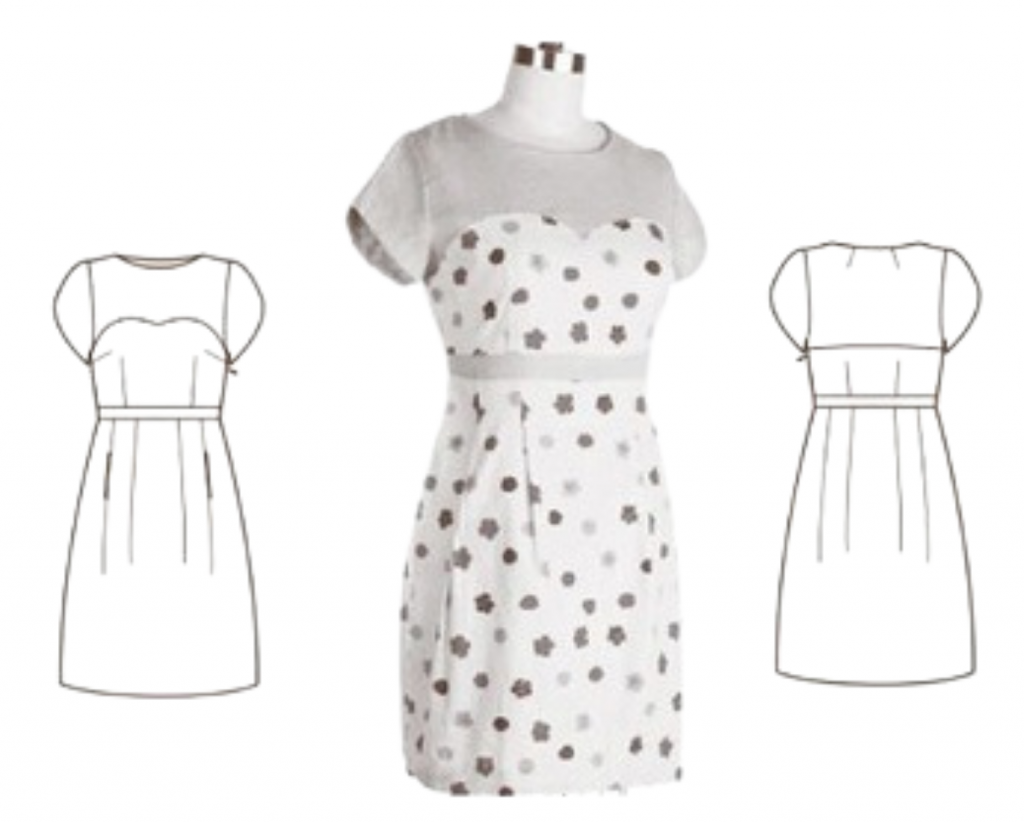 Description
From the pattern jacket: A flattering and curvy dress. Includes a bodice fitted with darts, along with a contrasting top yoke, sleeves, and narrow midriff band. Short sleeves are gently scalloped along the sleeve hem, echoing the shape of the bodice. Skirt has large pleats, with pockets hidden in the front pleats. Closes with an invisible side zipper.
Materials Requirements
I was making a size four dress, so the pattern called for 2 yards of shell fabric and 1 5/8 of contrast fabric, plus 1/3 yard of interfacing, and a 16" invisible zipper.
I was working with vintage fabrics which were anything-but-lovely, untouched yardages, but I managed to piece together what I needed from some not-too-big pieces I had lying around. This is not a fabric hogger of a pattern. You can also get away with cutting some of the 'contrast' pieces, such as the neck facing and the sleeve lining, out of other fabrics if you run out of contrast fabric because those pieces won't show.
Materials I added in were around 2 yards of piping, made from 1 ½ inch wide strips of cut bias and some nylon cording I found in my mom's stash. (We've fled Austin for a couple weeks this summer so the kids could experience summer camp California style, as in being able to stay outside all day without stroking out.)
I also added a small rectangle of contrast fabric to the bodice.
Fabric Recommendations
I think most mid-weight woven fabrics would do great in this pattern. I wouldn't use anything too lightweight because of all the seams and darts; it could possible become a see-thru issue.
Overall Design
I thought the design of the dress was really unique and attractive. I have some qualms with the waistband being the same contrast fabric as the upper bodice, but that's thanks to my somewhat squat physique. I LOVE the hidden pockets in the front pleats. Love them. All dresses need pockets, in my humble opinion.
I was smitten with all of Colette's patterns and her overall aesthetic. I love being inspired by such a lovely little company… I have never understood why the major pattern companies don't do more to make their pattern samples less heinous and more endearing. Companies like Colette provide the whole inspiration package and lovely packaging, etc
Written Instructions
I felt like the written instructions were fairly clear, although there were a couple places where I read the directions and ended up feeling like they were clear enough for me, but I've assembled a kajillion patterns, and I wan't so sure they'd be as clear to a less haggard seamstress.
Catch my drift? The booklet that the instructions are written up in is an adorable little thing, but part of me wondered if there was so much expense wrapped up in printing these booklets up that they edited descriptive elements in order to cut down on the number of pages per booklet? By in large the descriptions were good.
Diagrams / Images
The diagrams in the pattern booklet are great. The drawing on the cover is sweet. The only thing i wished for was more photos. Since this is an interactive company to some extent, meaning that the pattern is augmented by one's ability to access more information regarding the pattern online, I wished that they had provided a few more photos of finished dresses on their website.
It seems like showing the dress sewn up in a couple different fabric combos would help not only inspire design decisions, but also could help provide 3D information via this 2D screen and print conduit. But the aesthetic of the company, like I said before, is really lovely and I had quite the sensory experience when I opened up the pattern. It just feels good to hold it. That's a great start to a creative project.
Pattern Pieces
The pattern pieces were clearly marked as to what they were, etc. I am not a huge fan in general of the 16-sizes-to-a-pattern patterns, though I understand why a company would choose to combine all these sizes.
Cutting can be challenging when you're trying to follow your size line among all those tiny little lines that start intersecting and dancing around darts and pleats. For the most part I just sort of figure that a fudge of a quarter inch or so isn't really going to matter, and whack away when I can't tell where my size line is.
In the case of this pattern I did end up with some piecing problems (cut pieces not matching up when I went to sew them) but I chalk this up to a couple things: one was the difficulty in following size lines when I was cutting, but another was cutting my midriff pieces on the bias and then using bias piping on both their edges. This can seriously wonk a pattern piece out.
Overall Level of Difficulty
This pattern was moderately challenging. The piecing of the bodice is a little funky, plus managing the darts on the skirt was weird for me since I had had a bit of a hard time telling where the markings were that I needed to be paying attention to. There is also an invisible zipper insertion and the easing in of lined sleeves.
Tips + Modifications
One of my favorite tips that came from watching the production sewers that I used to work with on my kids' line: they had a machine that would punch a tiny hole in the fabric where ever you needed to make a mark– That way you didn't need to mess with marking fabric with chalk, and figuring out which side you needed marked, etc… I read somewhere that if you fed a machine needle all the way through the fabric, including the shank of the machine needle, that it would leave a big enough hole in the fabric for you to be able to go back and see when you were sewing, but not big enough to be difficult to cover up. It works for me every time I'm marking darts. Give it a try!
Using a machine needle push all the way through, including the needle shank.
As for modifications, I loved the retro look of this pattern, and one thing I really love about vintage patterns is all the attention to details they give. Piping is an easy addition to a pattern that kind of 'punches up' the vintage look. So I decided to add piping to the top of the bodice as well as to the top and bottom of the midriff seams. I also added a small rectangle of contrast fabric to the front of the bodice, just to try to marry the two parts of the dress together a bit more.
Conclusion
After trying on this dress I do feel like it would be better suited to someone a bit, well, bustier than myself… However I still think it's super cute, and really love the aesthetic that the Colette pattern company offers to the indy pattern community. I'd love to sew up all their patterns.
If you are a beginner sewer attempting this pattern, I think you'd be well served to keep a copy of a sewing basics guide nearby, but that's probably good advice for beginner sewers tackling most commercial patterns.