Beth Byrge is self-taught sewist who loves to sew clothing for herself and her daughter. Today she back with How to Print PDF Patterns at a Copy Shop. You will love this! Print easily and efficiently, and know what to do before you even set foot in the shop! Let us know if you try this…
Print Patterns
PDF patterns are a great convenience. They arrive immediately and are usually less expensive than a traditional printed pattern. But a lot of sewists avoid them for one reason— assembly is required! If you're tired of printing, cutting and taping, then why not try printing your next PDF pattern at a copy shop?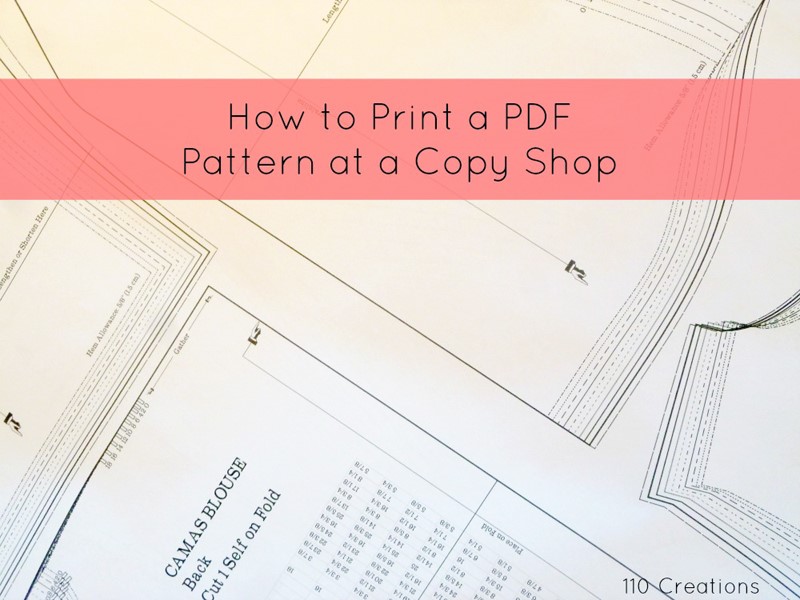 If you've never printed a pattern at a copy shop, it can be intimidating knowing exactly what to do. Follow these simple steps and you'll be ready to sew your new pattern in a fraction of the time!
At Home
Get to Know Your File
Copy shop versions of PDF patterns are becoming more and more popular with indie designers. If the pattern designer has included this feature, the copy shop file should download with any other files after your purchase. It is usually a stand-alone file, separate from the other documents.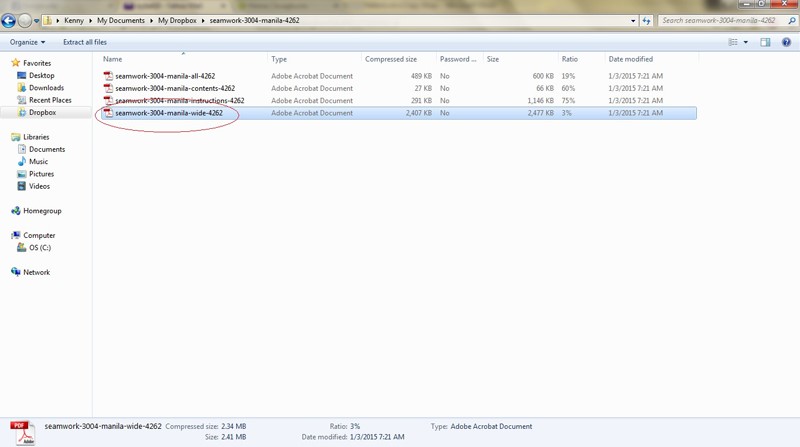 Since you will need to pay a fee to print at a copy shop, it's a good idea to examine the pattern and determine if it will be worth the cost. For example, a five page children's t-shirt won't take that long to print and assemble at home. A 45-page women's cardigan will take significant time, paper, ink and tape; that makes it a good candidate for copy shop printing. Also consider if you purchased the pattern on sale. If you already saved money up front, it is easier to justify another expense in the printing.
Once you've found a good candidate for copy shop printing, you will need to know the dimensions of the copy shop file. There are two ways to determine this measurement in Adobe Reader. First, you can hover your mouse cursor in the bottom-left corner of the screen. A window will appear showing the dimensions.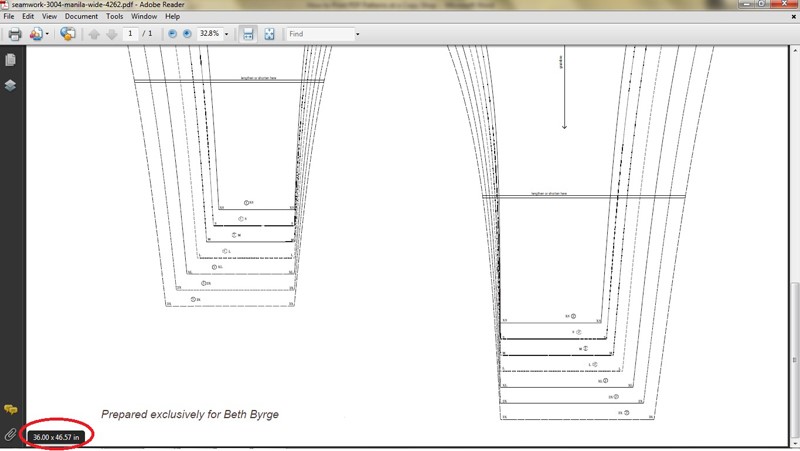 If this feature doesn't work for you, you can also go to File > Properties and click. A dialog box will open and show you the page size.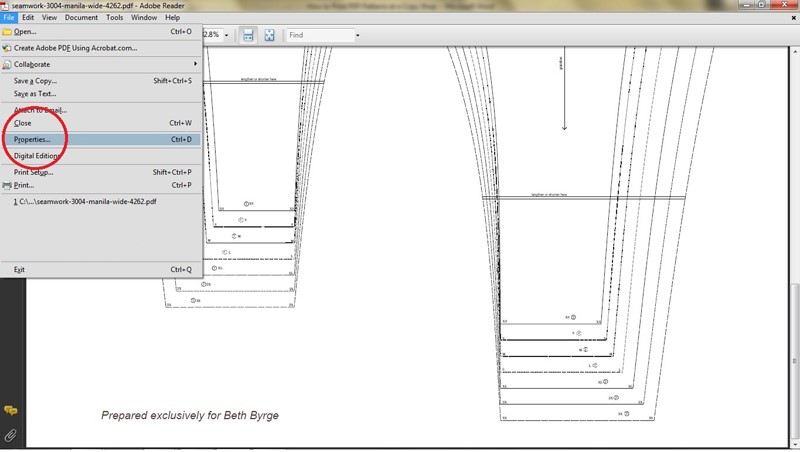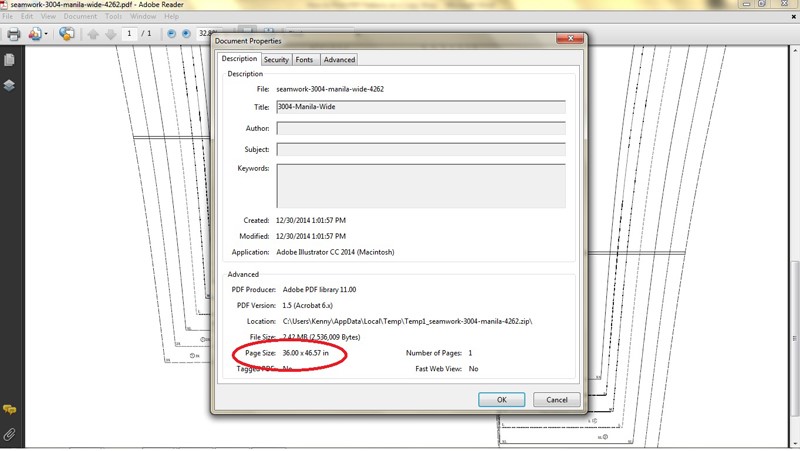 Write down the measurements of any files you're thinking about printing, and use that information in the next step.
Shop Around on Price
I live in a city with a prominent university, and there are a LOT of copy shops. I assumed that a small, local shop would give me a better price than one of the big box chain stores, but I was incorrect. PDF patterns do NOT come in a standard size, and it is likely that you will need a custom quote on cost. I found that prices varied widely, so it's worth it to call around before heading out the door.
This is where the dimension information from the previous step comes in handy. Give the copy shop worker the exact size of the document so they can quote you accurately. It is possible you will be given a cost based on a per-square-foot basis.
If the copy shop has a website, check to see if they offer email quotes. You can email the file to the shop ahead of time and acquire a cost quote that way. Whether you speak to someone on the phone or by email, specify that you need black and white printing, on the lowest quality paper. You do NOT need photo-quality paper, or color printing, both of which will cost more.
Transport/Transmit Your File
Once you've written down your file size and received a quote on cost, you'll need a way to get the file from your computer to the copy shop. As mentioned above, some shops may allow you to email the file to them as an attachment, or to use an upload portal on their website. These are good options if you do not own a flash or jump drive.
If you do own a flash drive you can save the print shop file on it and bring it directly to the store. Make a note of the exact file name so that you can instruct the copy shop employee which file to print. It's also a good idea to check what other files are on the flash drive to maintain your privacy, since a stranger is likely going to see at least the file names as they look for the pattern PDF. You may want to move all the other files to a single folder to make the correct file easy to find.
At the Copy Shop
Print the Pattern
Bring your flash drive (if applicable) and your notes to the copy shop, along with a small ruler. Speak with an employee about printing a document on their large-format printer. Remember to tell them that you need the lowest quality paper, with black and white printing. At this point, the employee may bring the file up in front of you on a computer as they walk through the process, or it may happen behind the counter. In either situation, be very clear that the file must be printed to scale. It should not be resized or shrunk in any way.
The file will be printed on one large sheet of paper. Before you pay for the document or leave the store, check the pattern thoroughly. Hopefully the pattern designer included a test square with exact dimensions that you can check with your ruler. Examine the sides and the bottom of the pattern to ensure that the entire file printed, and was not cut off in any way.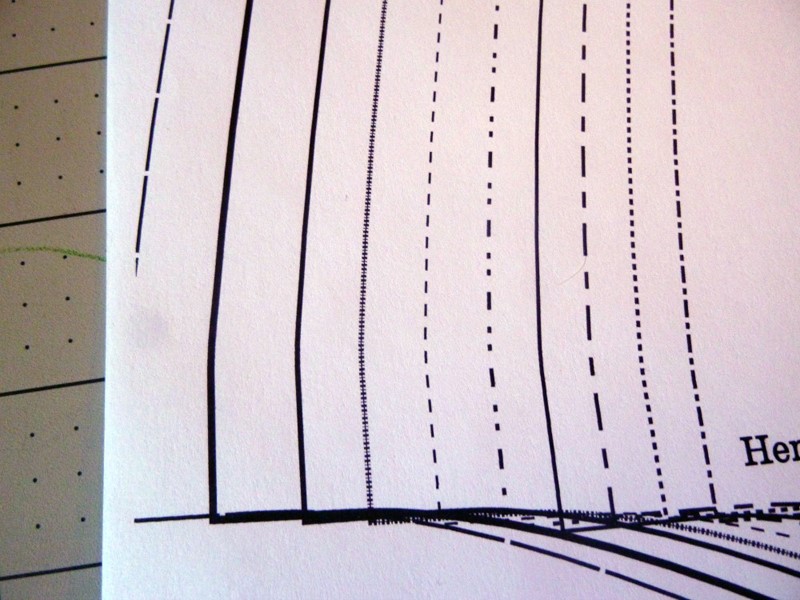 The above pattern was cut off when printed; try to avoid that! Once you are satisfied with the printout, ask if the pattern can be rolled up and secured with a rubber band or some other method, to make transport home more manageable. The shop may even provide a large bag for holding rolled papers.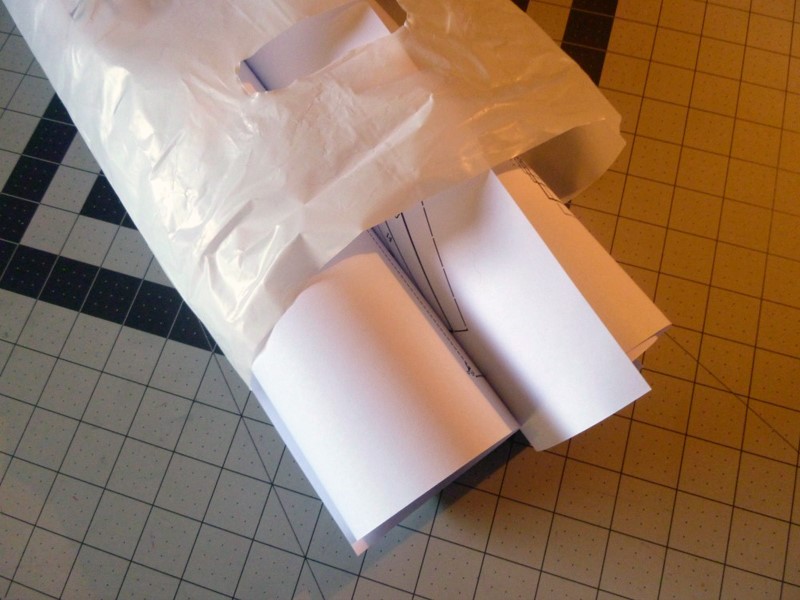 Store the Pattern
Keep the patterns rolled at home until you're ready to either cut them out or trace them, depending on your personal preference. Remember that this is not a tissue paper pattern; if something happens to your printout or you cut the wrong size, you still have the PDF that you can print again later. Copy shop paper is much sturdier than tissue; in my experience it's about the same as standard home printer paper. In this photo, my husband spilled tea on one of my pattern pieces, but the paper was strong enough to withstand the spill without issue.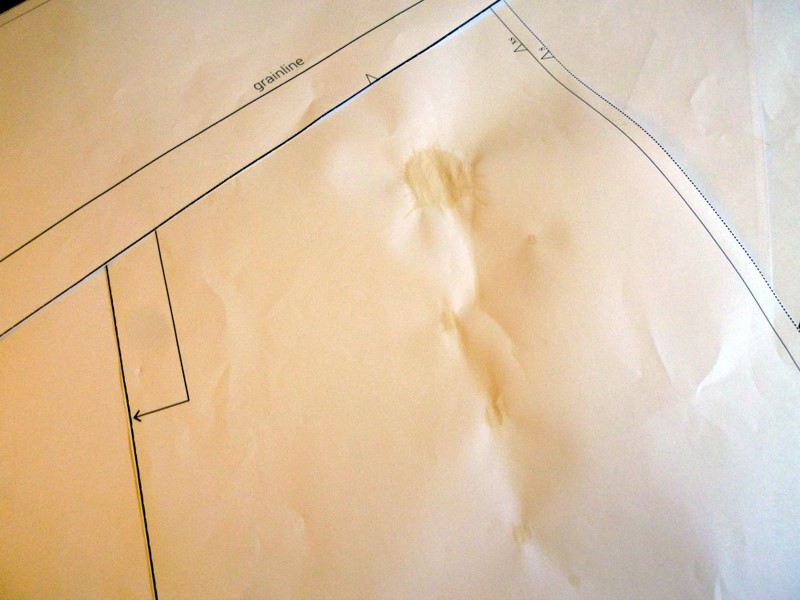 Imagine that happening to tissue! When you're done using your pattern you can either hang the pieces or roll them up. It is unlikely that you will be able to fold them like a tissue pattern.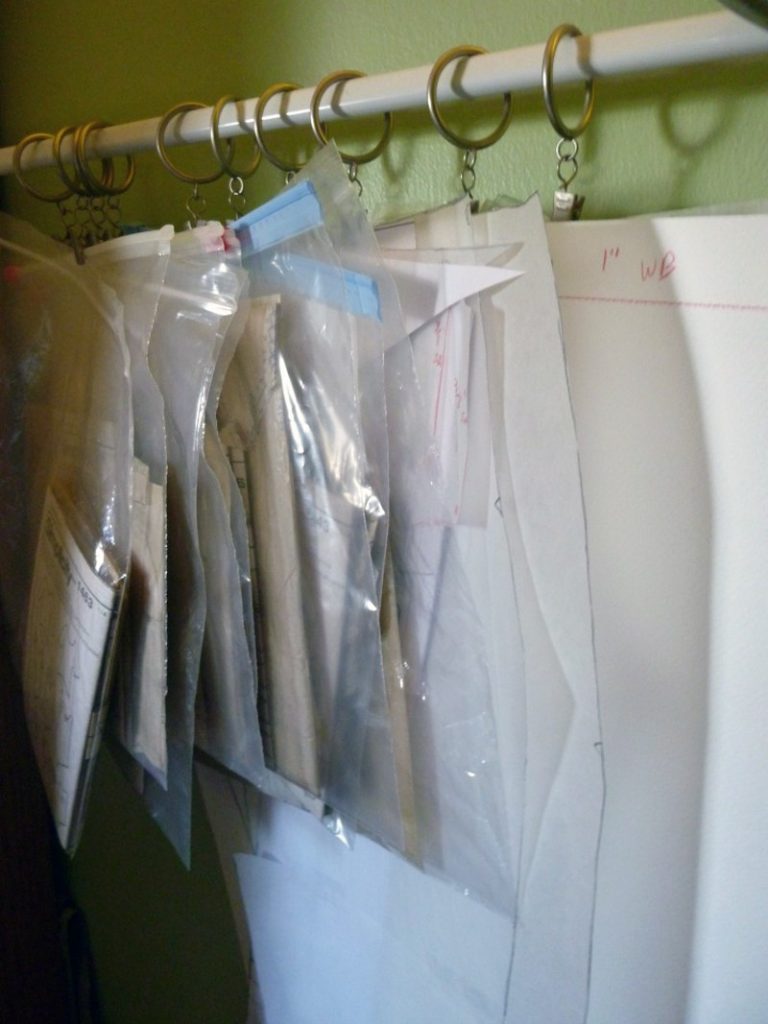 I use a tension rod and clips meant for curtains to hold a lot of my patterns. My favorite method for rolled patterns is to roll the smallest pattern pieces up inside of the largest pattern piece, and then secure with an empty toilet paper tube.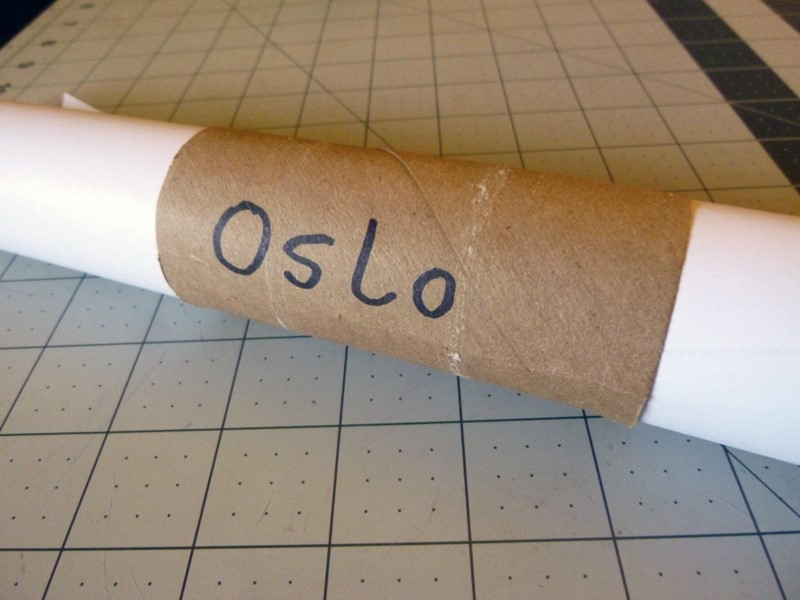 You can also use a rubber band to secure, though you will want to include some sort of tag identifying the pattern. I write the name of the pattern on the cardboard roll, and store the pattern in a basket in my sewing room.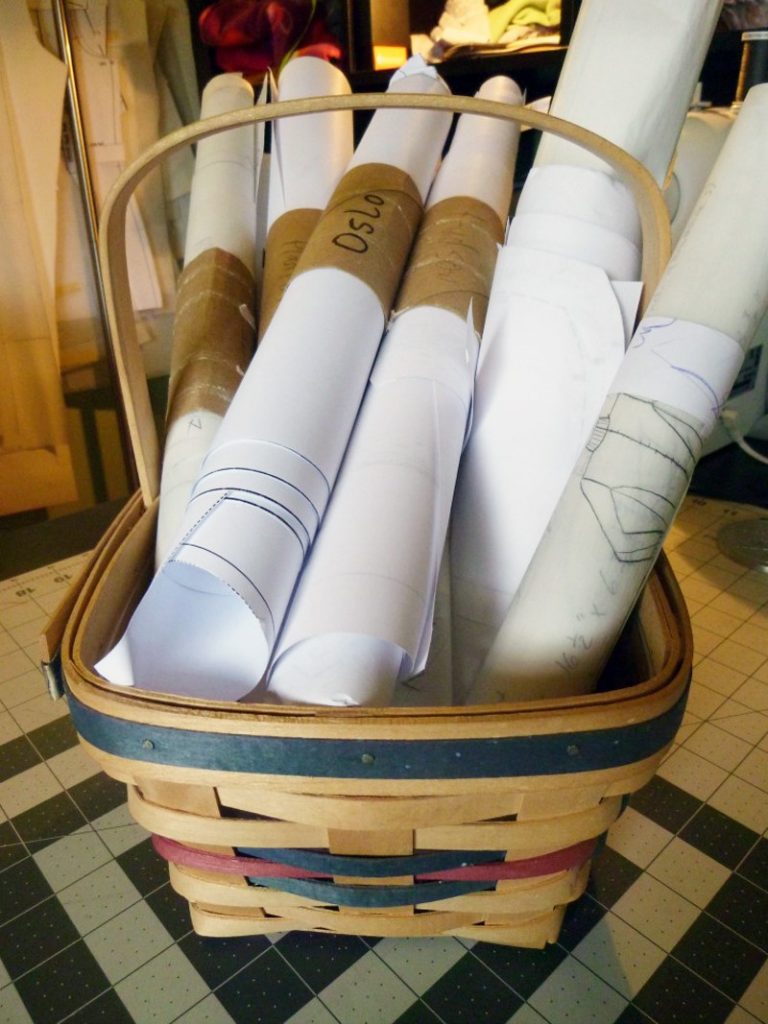 Once you realize how easy it is to print PDF patterns at copy shops, you may never go back to printing at home! If you've restrained yourself from some great patterns because they were only available in PDF, look again and see if they offer copy shop files. You will no longer spend your precious sewing time cutting and taping paper instead of cutting and sewing fabric.
How To Print Patterns at a Copy Shop