Pattern
Sunday Dinner Apron from Vanilla House Designs
Description
This halter-top apron is totally modern with it's varied fabric options and figure fitting style. The pocket embellishment completes its trendy theme. (from pattern back)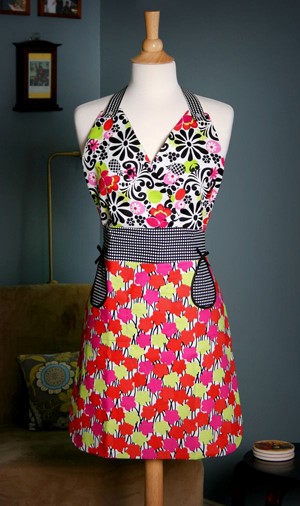 Fabric Recommendations
Any quilting cotton would do for this design. I wouldn't recommend working with anything too heavy.
Materials
From pattern back: Based on 42″ minimum wide fabric washed.
Overall Design
I think the design is adorable, but changes would have to be made for larger bustlines. The pocket cut outs are super cute as well but could be a little deeper of a pocket.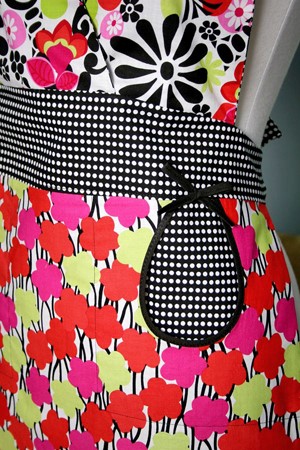 Written Instructions
The written instructions are very clear and easy to follow.
Diagrams / Images
Since there is an "A" version and a "B" version of the pattern, I think it would be helpful to the beginner seamstress if there was a fabric layout diagram that shows which pieces to cut from which fabrics to get to the desired "A" or "B" design.
Pattern Pieces
The pattern pieces are easy to cut and understand.
Overall Level of Difficulty
The overall level of difficulty is beginner to intermediate. Fairly easy to assemble but for some beginners they may get confused with the pocket cut outs and lining. (Very creative idea!)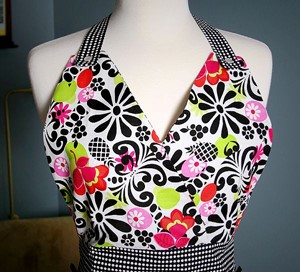 Modifications & Tips
I would most likely modify the bodice slightly to adjust the pattern for larger bustlines as well as fit it a little more along the sides to prevent puckering.
Conclusion
I really love the design of this apron and can see myself recreating this for myself and friends/family after a few modifications of course…
Sunday Dinner Apron Pattern Review