Pattern
Frenchy Bags by Amy Butler
Description
Stylish and fun handbag and shoulder bag.
Frenchy Bag by Cathy
Materials
Light to medium weight fabric, sew-in interfacing (for light fabrics) and a magnetic purse fastener.
Overall Design
When I first saw this pattern, I really wanted to make it. The photograph on the front using Amy's gorgeous 'Lotus' fabrics really appealed to me, and I like shoulder bags as I am tall and smaller bags don't suit me as much as a shoulder bag. It looked very fresh and smart and I knew it would be fun to play around with the design. I especially thought the pleats were brilliant.
I decided to make the Shoulder Bag but there is also a smaller version in the pattern which looks equally as lovely. The description and the materials list were quite accurate, although you could get away with a little less fabric.
I like the fact that she mentions that if you use a heavier weight fabric you don't have to use the sew-in interfacing (which means less sewing).
Written Instructions
The actual written instructions were very detailed and in easy-to-follow point form.
Diagrams / Images
Personally, I am more of a diagram sewer, so I found the diagrams very detailed and easy to follow. I found that I was getting all the information I needed from the diagrams.
Pattern Pieces
The pattern pieces are printed on heavy paper, so they don't scrunch up like tissue patterns. All the relevant information is printed on the pattern pieces, eg. how many to cut and out of what, etc. Very straightforward and easy to follow.
Overall Level of Difficulty
I found this pattern a very easy one. A beginner sewer would have no problems at all, as the instructions are very detailed and easy to follow. Another point is that there are no zips, only a magnetic closure. A more experienced sewer could easily adapt this pattern to suit their style and really do a lot with it.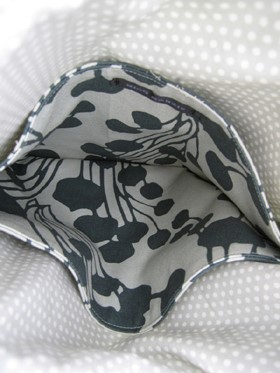 Inside of the Frenchy Bag
Modifications and Tips
I especially love the handles with this bag. They are easy to do and very effective. I would recommend the heavier weight fabric as it does give a more professional finish. The only thing I didn't particularly like was the inside pockets. They are a long way down in the bag and, as the bag is quite deep, you would have to fish around for what you were looking for.
When I make the bag again, I would definitely modify the pockets to suit whatever the bag was going to be used for. I think it would make a great diaper bag if the pockets were modified by making them smaller or divided.
So, if you wanted smaller pockets, I would run a seam down the middle of the pocket after it has been attached to the lining and before attaching to the exterior.
Fabric Recommendations
I used a heavyweight fabric for the main bag pockets and exterior, which meant that I didn't have to use sew on interfacing. I used a lighter weight for the lining and the top exterior panel. I think the bag really sits well and holds its shape.
By using the heavier weight fabric, the finished result is very professional. I also used a linen at the top of the bag with sew-on interfacing, and that works really well with the heavier fabric.
Conclusion
I found this pattern was inspiring to look at, with easy-to-read instructions, very clear diagrams and the end result is fantastic. I love this bag even more now that I have made it. I am really happy with the way it turned out.
I bought the fabric months ago and I wasn't sure what I would do with it, and this was the perfect bag for the fabric. It is also an Amy Butler fabric from her 'Forest' range.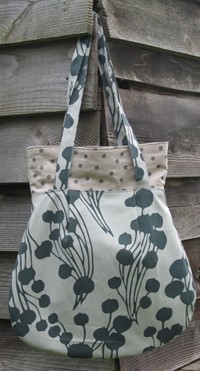 I think it looks better in real life than in the photo and I certainly will be making more in the future. I will try out the handbag pattern and see how that goes. I think a fabric flower would look terrific on the bag as well to add a bit more interest, especially as my bag is a little more conservative to look at than the one in the pattern.
Frenchy Bag Pattern Review