The pattern includes one full size pattern for the Smart Handbag, a 10″ x 10″ bag with handles and a very "finished" look. It also includes instructions and measurements for making a 10″ wide x 14″ tall drawstring bag with handles (separate review.)
Bag Pattern Review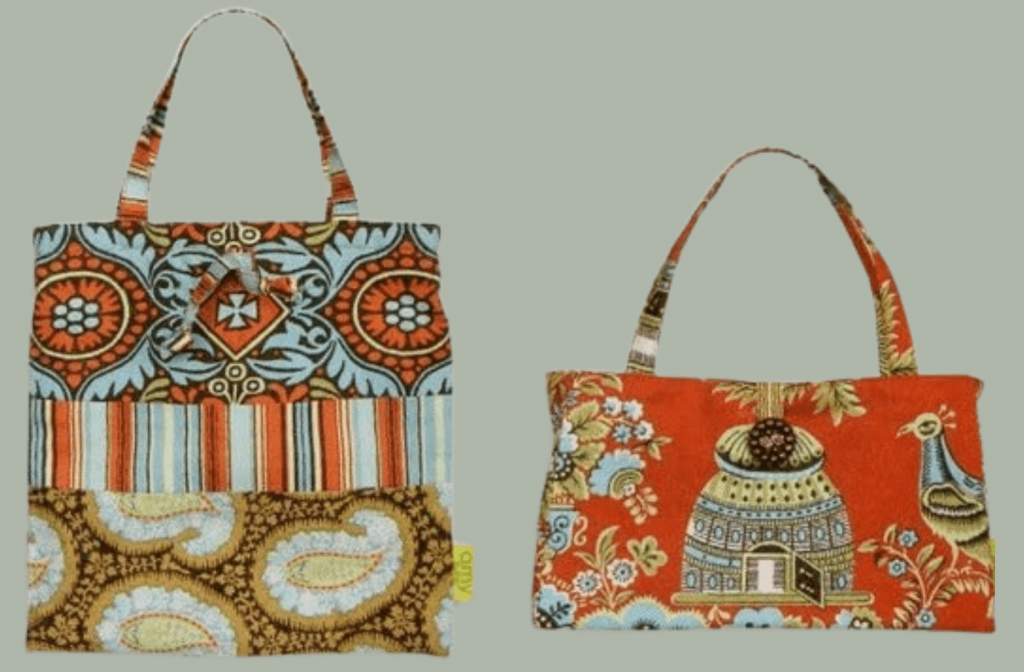 Materials
Exterior fabric: 1/2 yard of 44″ mid- to heavyweight cotton*
Interior fabric: 1/2 yard of 44″ mid-to heavyweight cotton*
1/8 yard of 13″ wide Timtex**
1 yard heavyweight sew-in interfacing
1 spool of coordinating thread
optional buttons & ribbon for closure*see notes about amount of fabric in the review
**see notes about Timtex in the review
Overall Design
The design is very good and precise. You could easily modify the handles and closures to make variations, but the pattern is quite good for a little handbag. It's not a hold-extra-diapers-wipes-sippy-cup-wallet- pens-makeup-everything-else-Mama purse, but it's a "Smart Handbag" and looks good. The pockets inside help keep everything organized.
Written Instructions
The written instructions were excellent. Any time I ran into trouble I would double-back to reread and usually the pattern seemed to state a tip in BOLD letters that specifically addressed how to avoid the mistake I just made. I had just missed it. I tried to be good and precise about following the instructions, but if I was better at doing so I would have had an even nicer bag.
The written instructions were very clear, and I think the advice at the top about reading the pattern before you start was written just for me. Excellent instructions.
Diagrams / Images
There are a lot of diagrams throughout the pattern and, as I was shopping for fabric, I really appreciated the two versions of each bag in full cover on the front of the pattern.
Pattern Piece
The pattern pieces include a half-inch seem allowance and are quite easy to cut out and lay down. Please note my discussion of the fabric discrepancy under the Fabric category. The two stars are due to the huge amount of extra leftover fabric.
Overall Level of Difficulty
Some of the work with the lining can be a bit tricky, but there are clear instructions, nice diagrams, and there's a good glossary of terms (edge stitch, interfacing, machine baste, slip stitch, Timtex, turning tool) to make the whole thing seem less intimidating.
Tips
It's essential to press to create the finished, "smart" look of this purse. I was good until the very end when I thought I needed some extra "oomph" to give the top edge a really precise fold. This led to a big bunch in the middle of my five-inch hole (left for turning the bag) that I had to fix with a little overlap. Also, be very careful when trimming the corners as you could easily trim your corner off.
Modifications
There's a note in the pattern as you're sewing the lining that you can sew down the center to create two pockets on each side. I thought a bigger pocket would be better but wasn't happy with the result and had to backtrack to fix it by pinning the center with buttons.
Without the sewn center the pockets were just too open, showing the unfinished seam at the bottom; I thought it looked a bit sloppy. Next time I make the bag I'll just sew the pockets down the center from the start.
Floppy pockets
A smaller pocket on the outside of the bag would be cute (perhaps made from the interior fabric?).
The lining seems a bit bunchy; it would be nice to have a way to connect it to the bottom.
**My primary modification was to use two layers of a heavyweight sew-in interfacing instead of Timtex. Timtex would give the base of the purse a much more finished, sturdy base but Timtex is not carried by any stores in our town and I didn't want the expense of ordering it from the Timtex distributor.
Someone reading my blog mentioned that her grandmother used heavyweight felt instead of Timtex and I think that would work well in this pattern. I've also heard of people substituting other things for Timtex with disastrous results though, and my machine wasn't happy with the extra interfacing.
Fabric Recommendations
Use of a heavyweight (canvas-weight works great) fabric really helps give the purse a finished look. If you're more conservative with the exterior fabric choice, try going wild on the interior for a fun surprise any time you peek inside.
If you're fairly new to sewing purses (like me!) or just to sewing in general I'd avoid stripes or any other directional fabric. I loved Georgia's tip about tilting your head to a 45 degree angle to check for this.
*I bought the exact total of one yard noted in the pattern and ended up with tons of extra fabric. Extra fabric is not a problem around here, but it does bother me that there's such a huge discrepancy in the pattern.
As I was cutting out my pieces I thought to myself, "She must just know I'm going to make a mistake!" Look at my picture to see just how much extra fabric there really was!
Conclusion
This is a very cute, finished-looking bag and the sewing wasn't very tricky. There are clear diagrams throughout the pattern. You don't need to buy as much fabric as is stated in the pattern unless you're counting on making mistakes (!) or don't mind extra for your fabric stash. This would make a beautiful gift for someone (or for yourself).
I initially thought it would be a bit sturdier, but if you look closely at the picture on the front of the pattern it's clear that (even with heavyweight interfacing) it's still a bit of a "floppyish" bag.
With the classic lines the "flop" makes it just a bit more casual. I used some of my great grandmother's buttons, and it would be fun to use vintage fabrics.
When I finished my husband said, "Weren't you going to use that outer fabric on the inside and the inside fabric on the outside?" Oops. The nice thing about this pattern is that you want to make another bag right away (and I almost have enough fabric leftover to do one right now!).
In-Town Bag Pattern Review