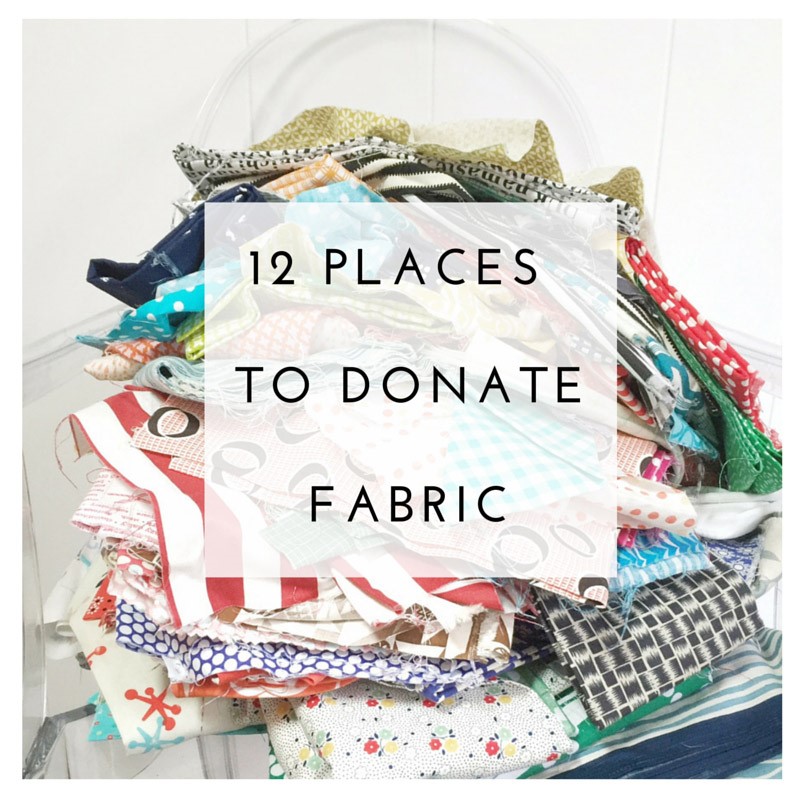 Places to Donate Your Unwanted Fabric
A few times every month I get an email or call from someone asking what they can do with their unwanted fabric. Often, a family member has died and the fabric was part of the estate, but sometimes someone simply realizes they'll never use all the fabric they've accumulated over the years. If the fabric is in good shape, don't throw it away! There are organizations who will gladly accept it as a contribution and put it to good use, but finding them may take a few phone calls. Here are some things to think about and ways to donate.
Before you call, assess what you have
What kind of fabric is it?
Most of the emails I get say, "We have a lot of fabric," but they don't specify what kind. Is it garment fabric? Upholstery? Quilting cotton? Swimsuit fabric? And what about the fiber content? Is it 100% cotton? Polyester? Wool? Before you start calling or emailing groups to see whether they want it, try to get a sense of what's there.
How much fabric is there and how big are the cuts?
Many sewers will have a mixture, but you should endeavor to separate it. Some organizations, for example, may only be interested in quilting cotton, while others may prefer garment fabric. You don't have to be able to identify every component, but you should be able to give the group an idea of what they're looking at.
What is the size of the cuts and how much fabric is there?
Most groups are going to want to know about how much fabric they'll be getting before they commit to taking it. Is it small enough to fit in a shoebox, a truck bed, or someplace in between?
Also, how big are the cuts of fabric? Is there a yard of each or just a few shards? Quilters are used to dealing with smaller cuts such as fat quarters (18′′ x|22′′), Charity Sewing & Craftivism, Fabric & Tools, Trending whereas garment sewers prefer yards. Schools and other organizations who utilize the cloth to create art will presumably be unconcerned.
Is the fabric in good shape and clean?
If the fabric is musty because it's been a garage for 30 years, let the group know before you pass it along. It's possible that they won't be able to wash the fabric.
Are there notions too?
Make sure the group knows if you have any other supplies, such as thread, needles, bias tape, tools, buttons, and so on. They might or might not wish to include them in the fabric donation.
Can you deliver it or pay for shipping?
Most of the groups who will take donations of fabric are not-for-profit and don't have funds available to have the fabric shipped to them.
Organizations that Might Take Your Fabric
Before you show up with a big box of fabric, it's important that you confirm with someone from the organization that they will be able to take it. It's possible that they don't require it or are unable to receive it at this time.
Preschools and K-12 Schools
I once gave a preschool a large box of upholstery fabric swatches, which they used to develop cutting skills and create art. I've also donated to my daughters' schools for use in art class. If the school offers a theater program and/or sewing lessons, they may be able to accept your larger fabric cuts.
Colleges
Fashion design, painting, and theater are all excellent areas to begin.
4-H, Girl Scouts, and Boy Scouts
These youth organizations may be found all over the country and are frequently involved in service projects as well as acquiring home living skills. (I held a toy drive last year and received a big shipment of stuffed manatees from a Girl Scout troop!)
Churches
Some churches have sewing clubs and volunteer for community projects, as well as holding group yard sales to earn funds for church initiatives and ministry groups.
Project Linus
Quilts are made by Project Linus volunteers for critically ill children. There are chapters all around the United States.
Quilts of Valor
Quilts of Valor is a non-profit organization that provides quilts to servicemen and women who have been affected by war. You might be able to connect with some of the volunteer quilters by emailing the organization.
The Humane Society
Volunteers make pet beds, blankets, and bandanas for dogs for some organizations.
Reuse/Recycling Centers
Reuse/recycling centers can take contributions of almost anything in many communities. They have a store where you can purchase unique home and creative products, as well as classes and community education. (Take, for example, SCRAP in Portland.)
Children's Museums
I've been to several children's museums that have rooms with scrap wood, fabric, recycled cardboard and other supplies. Kids are encouraged to utilize their imaginations to create whatever they desire, while staff assists them in learning how to use new equipment.
Quilt Guilds
Many guilds offer charity sewing clubs and members who can benefit from the cloth. A guild finder is available from the Modern Quilt Guild.
Prisons
Several quilters and sewists have told me that they've given sewing workshops in jails or collaborated with inmates to develop things for sale.
Senior Centers + Assisted Living Facilities
Sewing and quilting clubs are quite active in several elder homes and organizations. With limited funds and access to fabric stores, these senior organizations could benefit from a generous donation.
Know of other places to donate fabric? Please leave your ideas in the comments!
12 Places to Donate Your Unwanted Fabric