I love my bed. It's soft, it's cozy, but all too often it's cluttered with the book I've been reading, my eyeglasses, my notepad and pen… With no bedside table I was without good place to manage these necessities (save the floor which is, in fact, not a good place to store your glasses) until the birth of the Hanging Bed Organizer.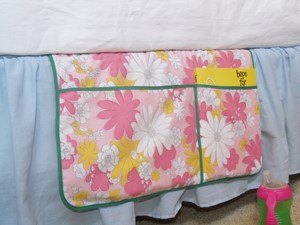 It slips between the mattress and box spring to hold the little things you need to keep close, and thanks to a clever strip of non-skid rug pad or rubberized drawer liner it won't be pulled out by the weight of even the heaviest books.
You Need
2/3 yard of a single fabric: I used a vintage sheet; calico or lightweight upholstery fabric is also great
3 1/2 yards double-fold seam binding
a 20″ x 10″ strip non-skid rug pad or rubberized drawer liner
thread to match seam binding
about half an hour (with three little ones I have to include that in my calculations!)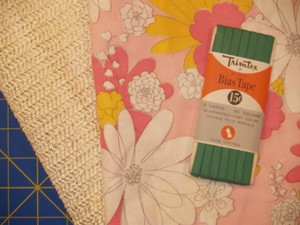 Process
Cut a 20″ wide by 48″ long strip of of your fabric.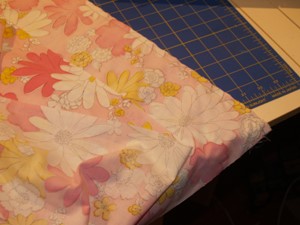 Fold the fabric in half lengthwise, right sides together. Stitch across the short side to make a loop, the turn right side out and lay it flat. Press folded ends (you know you want to skip this, but don't–it makes it infinitely easier to stitch the seam binding on). Finish one folded edge with double-fold seam binding.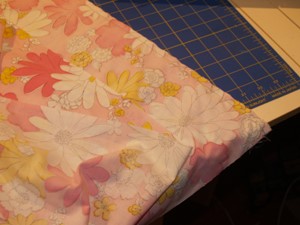 Fold the bound edge up by 8″ to make a pocket, then trim the bottom corners of the pocket off into a quarter-round (not too much, you just want to avoid having to deal with stitching the seam binding around a corner).
Cut a 9″ length of seam binding. Slip one cut edge under the binding on the pocket edge and stitch it vertically onto the front as a divider to form two pockets. Trim excess. You're almost done!
Use the remaining single length of seam binding to finish the two long sides and the bottom, following the rounded corners. See how easy this is with those rounded corners? Trim excess seam binding and reserve.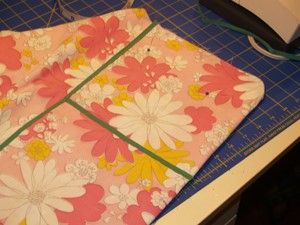 Make a sandwich with either the rest of your seam binding or a strip of scrap fabric on top, the 20″ by 10″ strip of rubberized shelf liner/non-skid rug pad in the middle, and the top edge of the organizer on the bottom (the seam binding keeps the shelf liner from sticking to your presser foot). This is the trick…it keeps the pocket from sliding out from between the mattress when you slip in a couple of books (hey, it's only a good idea if it works!).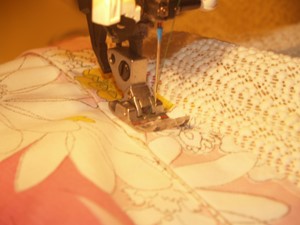 Slip it between your mattress and box spring and load it up!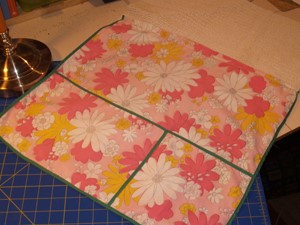 Hanging Bed Organizer – Sewing for the Home