Pattern
Grand Revival Flea Market Bag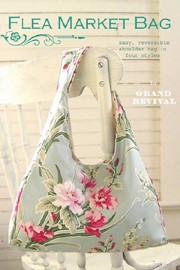 Description
Great shoulder or messenger style bag for wandering around town. Cute and stylish, this bag has found a new spot on my favorites list!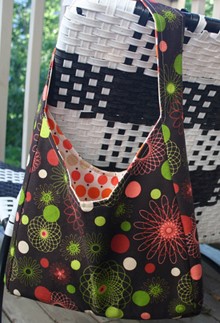 Small-size Flea Market Bag by Robyn
Materials
Light to upholstery weight fabric, fusible interfacing, matching/ contrasting thread.
Overall Design
I love this bag. It's great to keep over a hook by the door to toss over your shoulder on the way out the door, and functional enough to hold a ton of stuff. The pattern includes a number of variations (8 in total), so it's relatively easy to pick the size and style that suits your needs best, and also leaves lots of room for customization; the pattern itself comes with a few options for closures and pockets.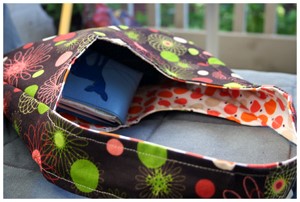 Inside bag detail
Written Instructions
The written instructions were fairly detailed and pretty easy to follow. Beginner sewers may have a little trouble with the corners of the base & straps– the instructions on how to sew the corners and finish the straps could be a bit more detailed– but everything is ultimately fairly easy to get the hang of.
Diagrams / Images
The diagrams are super-detailed and fairly easy to understand. Intermediate or advanced sewers familiar with patterns and sewing diagrams will get the gist of the pattern instructions from the diagrams alone, and beginner sewers will find them good references for the written instructions.
Pattern Pieces
Each bag requires 2-3 pattern pieces to complete (three if you're making the tied strap). The pieces are simple and easy to cut out; with a cutting mat and a rotary cutter it should take you only about twenty minutes or so. The only catch is that the large and small bag pieces come out of the same pattern piece.
If you'd like to make both bag sizes there's a bit of taping and un-taping to be done as you need to split the pattern piece almost in half to make the smaller bag. It would be much easier to have one pattern piece for each size of bag body.
Overall Level of Difficulty
Even though I've made lots of bags in the past, and have lots of sewing experience, I still needed to sit back and think about some of the instructions (the strap, specifically). Other than that, though, the pattern was pretty straightforward. With all of the cutting, interfacing and sewing, this bag was a 1-2 hour project and the end result is definitely worth it!
Modifications and Tip
I actually made two different sizes of bags out of this pattern – a small-sized shoulder bag and a large-sized shoulder bag. With the small bag, I used a medium bark cloth fabric for the exterior, and a lightweight cotton (Denyse Schmidt's Spotty Geranium from the Katie Jump Rope line), along with a medium-weight fusible interfacing. For the large,
I used two lightweight cottons, and used fusible interfacing on both sets of pattern pieces (the pattern itself calls for only one set of interfacing) to give the bag some extra body. I'm sure you could also use sew-in interfacing for this pattern as well. While my preference is fusible for ease-of-use, there's lots of room with this pattern for personal preferences.
The interior of the bag is essentially a blank canvas. The pattern includes instructions on how to add a large pocket, but if you wanted to make tweaks there's plenty of room to add other embellishments like a key loop (which I didn't include in this bag but find really handy in others I've made) or multiple pockets on either side of the body. It could also be easily tweaked to add an exterior pocket (with or without a zipper as well). The sky's the limit!
Fabric Recommendations
Pretty much anything goes with this pattern. I used medium and light- weight fabrics for my bags and liked the results with both.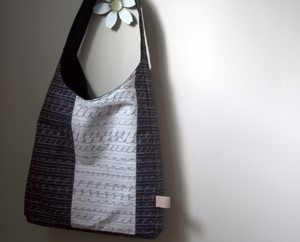 Large-size Flea Market Bag in cursive by Robyn
Conclusion
This was a fun pattern to work with, and I'm really happy with the results. My Flea Market bag has gone everywhere with me for the past few days, and I don't expect I'll be putting it down any time soon. Fairly quick and easy, it's a great one if you have a couple of hours free.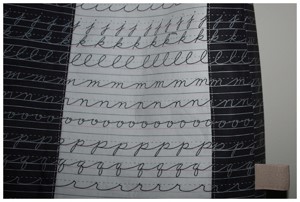 Cursive bag detail
Grand Revival Flea Market Bag Pattern Review