Debbie has her "creating mojo back" and her four boys are also back in school (yes: four!). The sewing pattern below and used Summer in the City fabric for a lightweight, fun jacket. Three more jackets to go, Debbie!
Hooded Jacket Sewing Pattern
The Little Hooded Jacket by Favorite Things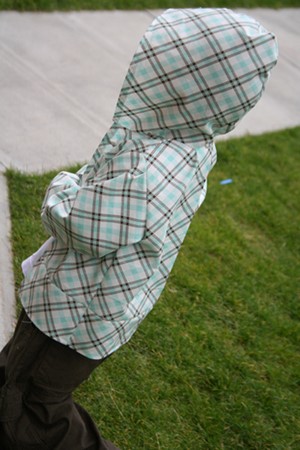 Little hooded jacket by Debbie
Description
As per the pattern envelope:
A small version of our pattern 'the hooded jacket' (#V020) in toddler and children's sizes.
Fabric Recommendation
The pattern does not give recommendations for the kind of fabric to use but this jacket is easily adaptable to either lightweight cotton or a heavier cord fabric. The edgings are optional and again could be anything from ribbons to decorative lace, etc.
Materials
For a complete materials list for the various sizes (Size 1-12), view The Little Hooded Jacket pattern. Click the "View Larger Image" button below the pattern image.
Overall Design
The overall design of this jacket is basic but very functional. It would make an ideal play jacket for toddlers or could be made into a more formal school jacket with some basic additions.
Written Instructions
Very easy to follow and basic instructions in language even a beginner would understand (believe me– this is the first item of clothing I have ever sewn!!).
Diagrams / Images
The photographs on the outside of the pattern package show both boys and girls in this jacket (the pattern is adaptable for both sexes). Also in the photograph it shows quite a number of different fabrics that have been used from cotton, polyester to fleece lining, etc.
Pattern Pieces
The pattern pieces were very easy to identify and marked in age sizes which was far better than inches, etc. I followed size 1 for my two year old and it fits perfectly. I think the sizes may be on the slightly large size so best to make sure you measure properly before cutting the pattern.
Overall Level of Difficulty
As mentioned before this was the first item of clothing I have attempted (apart from aprons) and, to be honest, I thoroughly enjoyed making it! I have a four year old who is now begging for a jacket like his little brother and, yes, I will make him one. In fact I may make all four boys one– Von Traps here we come!!
Modifications & Tips
As I wanted a summer jacket for Ethan I used very fine cotton and lightweight lining. As we are working on fastening his own clothes right now I am going to add buttons to the front of the jacket to enable him to do it himself. I omitted the ribbon edging, with the jacket being so lightweight it just didn't warrant the extra detail.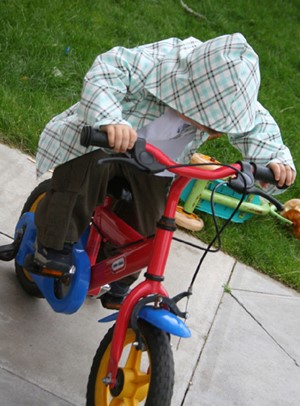 Little hooded jacket in action!
Conclusion
A very easy to follow pattern even for a beginner. I would highly recommend it to anyone wanting to try their hand at clothing. For the more adventurous sewing artist there is so much scope in this pattern and extras you could add– the possibilities are endless.
Little Hooded Jacket Sewing Pattern Review