Christie made these darling baby overalls for her daughter Willow from some of our favorite Alexander Henry fabric. Enjoy her fantastic pattern review below (completed in the midst of a big move from Melbourne to Beijing!). Also, be sure to check out Christie's introduction and blog, pigeon pair.
Pattern
Jackie Clark's Baby Overalls Pattern
Description
Fully lined overalls for baby/toddler (up to 12 months/28lbs) with snap closure between the legs.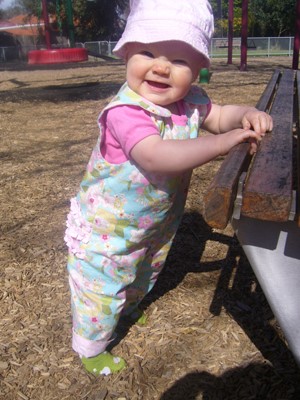 Baby overalls by Christie, pigeon pair
Materials
1 yard overall fabric & 1 yard of lining fabric (3/4 of each for smaller sizes)
1 package of snap tape (or 2/3 yard)
2 x (1/2") buttons
Matching thread
Optional: ¼ yard ruffle fabric
Overall Design
The overalls are a nice simple design that is a very practical and unfussy garment for a young child. As the overalls are fully lined you can produce a nice looking and hard-wearing finished product without the need for a serger. The additions of pockets and/or ruffles, as well as choices of fabric and lining mean that you can great a truly unique garment quite easily.
Written Instructions
I found the written instructions to be a bit basic and disappointing. Although an experienced sewer would not have a problem with this pattern, I would worry that a beginner may struggle with some elements which don't actually require a high skill level, just a bit more explanation than is given.
Diagrams / Images
I think that the pattern would have benefited from a couple more diagrams as they helped to make up for the generally simplified instructions. Once again, for a less experienced sewer some extra diagrams would have helped to clarify some of the stages.
Pattern Pieces
The overalls are made up of four pattern pieces (and the same for the lining) which can simply be cut out. I would, however, recommend tracing the desired size onto paper so that you can use multiple sizes. There are additional pattern pieces for the interfacing as well as the optional pockets and ruffles.
Overall Level of Difficulty
This is quite a simple pattern, with the most complicated element being sewing in the snap tape. My only concern with recommending this pattern to a beginner would be that the instructions are quite basic.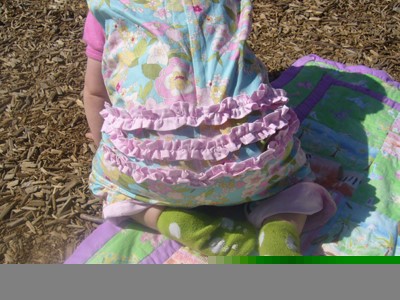 Contrasting ruffles on the back
Modifications & Tips
The materials list on the back of the pattern fails to mention that you need interfacing (although only a small amount is required) and you need to use your common sense with simple instructions being missed e.g. no mention of sewing buttonholes or attaching buttons! I found the sizing to be slightly vague as the sizes (S-XL) only have weight recommendations, not age/height. My daughter is 21 lbs (and quite tall) and I found that the Large size (18-22lbs) was a perfect fit for her.
I cheated when making my overalls and instead of putting buttons and buttonholes on the shoulders I put snaps which worked really well. For a little girl you could also alter the pattern so that the straps tie at the top which would be very cute and would show off your contrasting lining.
Fabric Recommendations
The pattern does not have any fabric recommendations. I made my overalls out of medium weight cotton* and I was really happy with the result, however as they are fully lined the finished overalls were slightly thicker than I had expected.
I wouldn't recommend using a much heavier fabric (although linen would be nice) and would recommend using a lightweight lining so as not to make the overalls to bulky especially if making them for a baby.*I used Alexander Henry's Tea Rose Calyx for the exterior of my overalls.
Conclusion
This pattern creates a practical garment that would be great for a girl or boy. The design is nice and simple and gives you a great starting point to be creative with fabric choices and embellishment with the optional ruffles and/or pockets.
Although the skill level required is quite basic, the pattern is let down by its very rudimentary and assumptive instructions which may confuse someone new to sewing.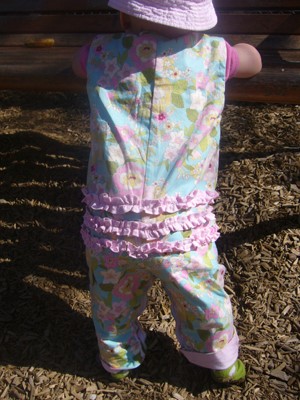 Back view of baby overalls by Christie, modeled by Willow, pigeon pair
Baby Overalls Pattern Review