Pattern
Jackie Clark's Britches & Bloomers Pattern
Description
"Easy-to-stitch pants for little boys & girls," according to the pattern package. A slightly tapered-leg pant with either a contrasting ruffle or cuff and either hip or side pockets.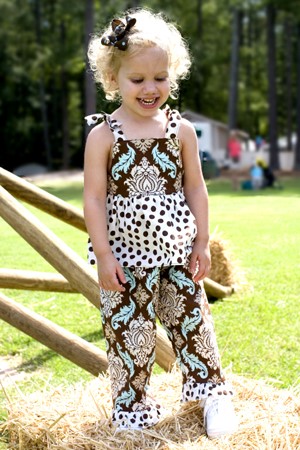 Girl's pants by Mary
Materials
While the package doesn't specify what types of fabric to use, the photographs on the package all show Britches & Bloomers made from woven cotton fabric. You also could use flannel with good results, as well as twill and lightweight denim.
And how about a nice fine whale corduroy? The pattern calls for 1/2 yard of fabric for sizes newborn through 1T or 2/3 yard for sizes 2T-4T, plus an additional 1/4 yard in a contrasting fabric (ruffle or cuff and pocket plus pocket lining). You'll also need a package of 3/8″ elastic and, of course, thread.
Overall Design
This is a great basic pair of pants for little kids and has been my go-to pants pattern since I first bought it. I especially like that the pants are basically two pieces (outside of the accent pieces), which makes stitching them up a breeze. My only complaint about the design relates to the rise of this pattern: it's huge.
Even when my daughter was in diapers, I found it was more than generous in accommodating her baby belly and Pampers. The pattern pieces also make a large jump in length between the 1T and 2T sizes. The lack of a size chart means you either have to guess at what size will fit your child or measure the pattern pieces and your child to determine which size to use — which isn't always easy for those with toddlers who'd rather run away than stand still while Mom measures their inseam.
Written Instructions
The pattern instructions are easy to follow for all levels of sewists, giving beginners enough guidance to create a nice, wearable garment without going into so much detail that the more advanced find them tedious. There are illustrations for pattern layout, pocket sewing and placement and even attaching the ruffle or cuff.
I did get a little confused the first time I stitched on a cuff instead of a ruffle but that could easily be my ADHD self skipping through too quickly, which I have a rather bad habit of doing.
Diagrams / Images
Color photographs on the outside of the pattern package show different variations of the Bloomers & Britches and are definitely helpful in visualizing how to put together the pants in multiple ways. The instructions include several drawings to help you along, from pattern layout (although that diagram shows the pocket cut from the same fabric, instead of a contrasting one) to attaching the ruffle or cuff and even using a safety pin as a bodkin for the elastic (unnecessary for me but could be helpful to someone who's never done it before).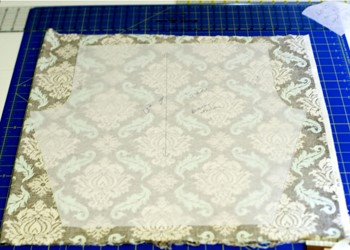 Cutting out a leg
Pattern Pieces
There's only one sheet of heavy brown tissue paper with all the pattern pieces. The pocket is divided into two sizes (one for the smaller pants sizes and one for the larger). Pants are grouped into baby and toddler sizes, and the lines are easy to see for cutting. I prefer to trace my pattern pieces on Pattern Ease and it was easy to follow the lines for tracing my pattern piece.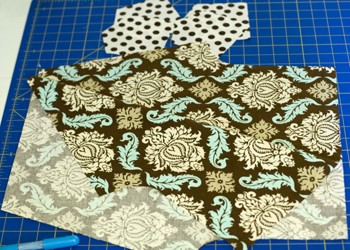 The pieces all cut out, ready to sew
Overall Level of Difficulty
This is a great pants pattern for a beginner and provides a nice starting point for a more advanced sewist who can see the potential for more creative embellishments.
Modifications & Tips
The pattern calls for very little topstitching but it's something I add to the front and rear seams and above the ruffle. I just find that topstitching those areas makes for a more polished garment — and topstitching the front and rear seams (especially after serging) gives a little added strength to an area that needs a boost for active little kids.
I find that I do a couple of things to help with the over-generous rise each time I sew these pants. One is to trim a little bit from the waist area. Because the waist is a straight edge (no dips or curves like on some more fitted pants), it's easy to use a ruler and rotary cutter to trim away the excess. I also prefer to use 3/4″ elastic instead of 3/8″ elastic, although I likely would stick to the smaller size on the infant sizes of this pattern.
If you enjoy serging in the round, you'll love serging in the elastic of these pants. And if not, give it a try! It really makes these pants come together even faster and is a great way to keep the waistband even without shifting or twisting elastic.
Alternatively, I have sewn in the elastic with great results: just pin the circle of elastic to the waist and stretch it as you sew before folding it over to make the waistband.
Because the ruffle instructions call for such a narrow (1/8″) hem, I often take one of two approaches.
Add a rolled hem on my serger.
Cut double the width of the ruffle and fold it in half so both raw edges are gathered and stitched to the them of the pants.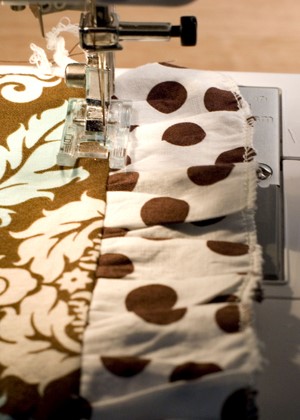 Topstitching above the ruffle

I've also made these pants without a ruffle or cuff and find that the 2T length is perfect for my daughter to wear that way. The pants are just as cute with two pockets as one — or without any pockets at all!
Fabric Recommendations
I like using a heavier-weight cotton fabric for these pants since bottoms typically get a bit more wear, especially as kids get more mobile. But a lightweight woven fabric works just as well and makes a nice warmer weather piece. Don't be afraid to try lightweight denim, cotton twill or even corduroy for an even more versatile garment that could be worn in colder months. I'm planning to try these in flannel for loungewear this fall.
Conclusion
I really love sewing these pants! They're easy to cut out and assemble, and sew up quickly (which is always a plus in my book, since much of my sewing is done during nap times or before my daughter wakes up in the morning). The fabric requirements are also minimal. And there's just so much potential for embellishing these, from using contrasting fabrics for ruffles/cuffs/pockets to adding trims and even making bigger cargo-style pockets.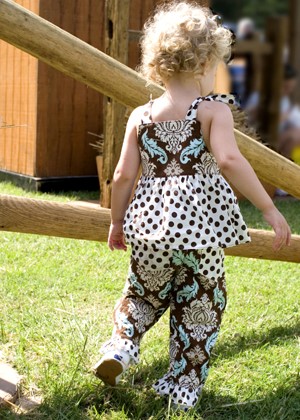 Girl's pants by Mary
Britches and Bloomers Pattern Review