Elizabeth has a free baby shorts pattern and tutorial for you in size 18 months! You can try down- or up-sizing the free pattern, or check out the full version with the link below.
Baby Shorts Tutorial & Free Pattern
I love making my baby clothes, and with summer here a shorts pattern seems like it should be the next sewing pattern on the list!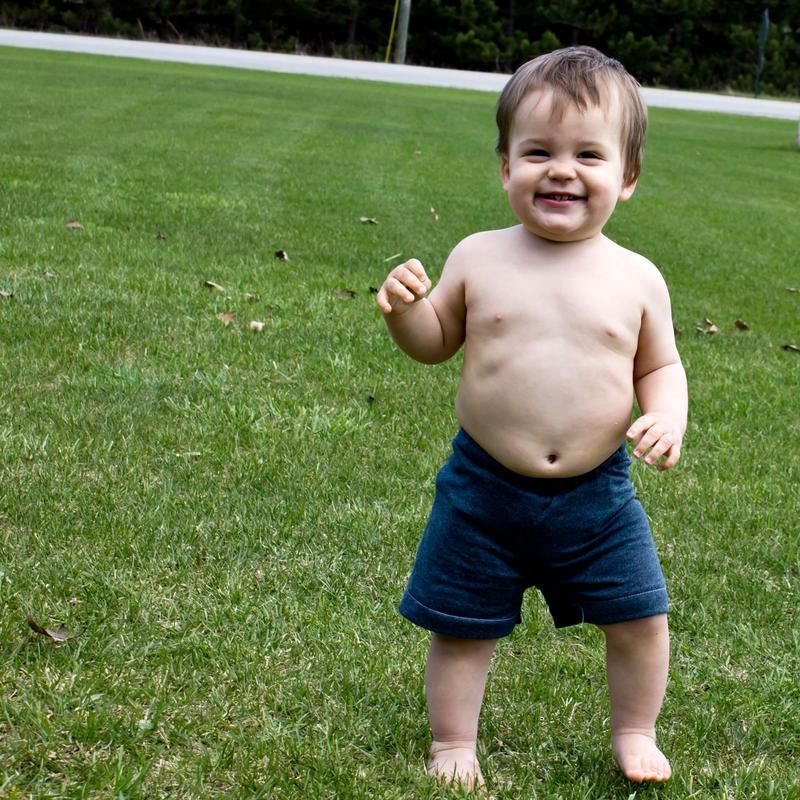 My son loves to run around in a diaper (or none at all), but I'm not sure that my neighbors appreciate that. I need to at least get him in a pair of comfy shorts that I can whip up in no time. Frankly, he'll probably stain and tear anything that I make for him. I combat my inner "freak out" by making him plenty of shorts out of free t-shirts!
The pattern I have for you today is from my favorite collection. It's super easy and you can easily recycle t-shirts into a pair of shorts for your baby. Newborn-36 months are the sizes that I typically offer in the patterns I sell, but this one only includes the 18-month size. Feel free to use it as you wish.
Materials:
T-Shirt
Thread + Sewing Machine
Elastic (the pattern calls for 1/2″ but I used 1″ for this tutorial. It's easy to change it up.)
Printable Pattern Pieces
Step 1
Decide what shorts pattern you are going with. I include a "comfy" size and a "slim" size. The pictures of Elijah are wearing the slim (and he isn't very slim!). It's a little snug on his chunky tummy, but I like how the knits fit with the slim size. The comfy size is perfect for woven fabrics, especially if you use cloth diapers (like I do), which take up more room.
Once you decide which pattern you are going with, print it out, tape it together and place it on your t-shirt like this: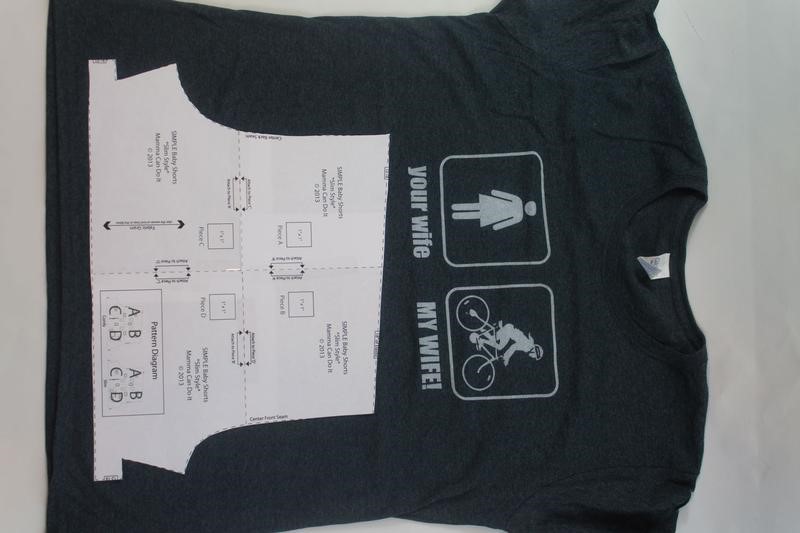 Step 2
Cut around the pattern piece. You are actually cutting two pieces that are mirroring each other; by leaving the t-shirt intact, you can easily accomplish this.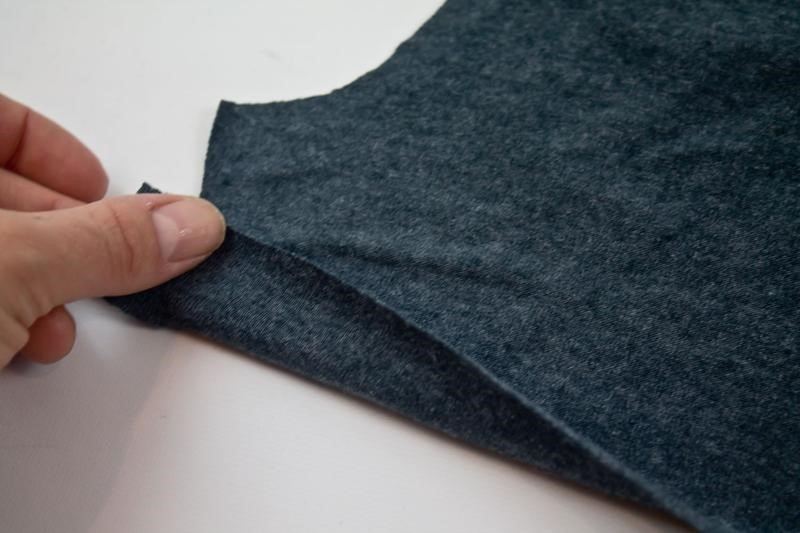 Step 3
Flip the bottom of each leg inward, toward the wrong side of the fabric. You are going to hem this first.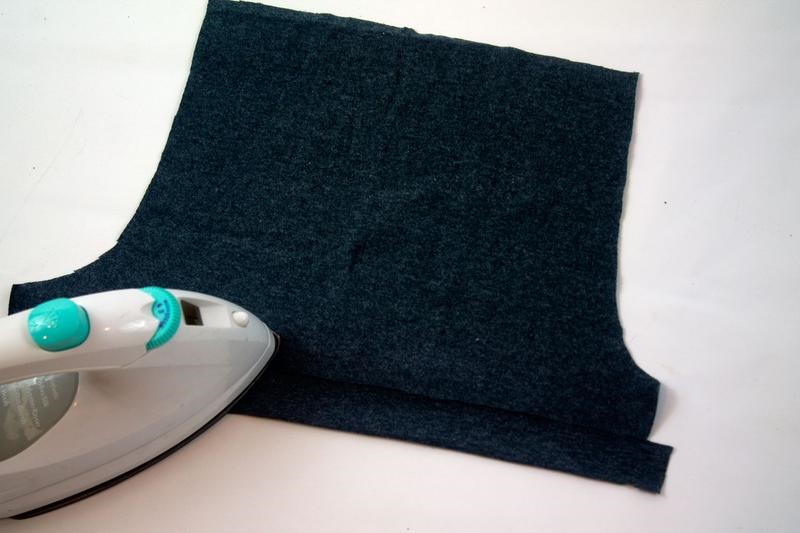 Step 4
Iron the hem into place.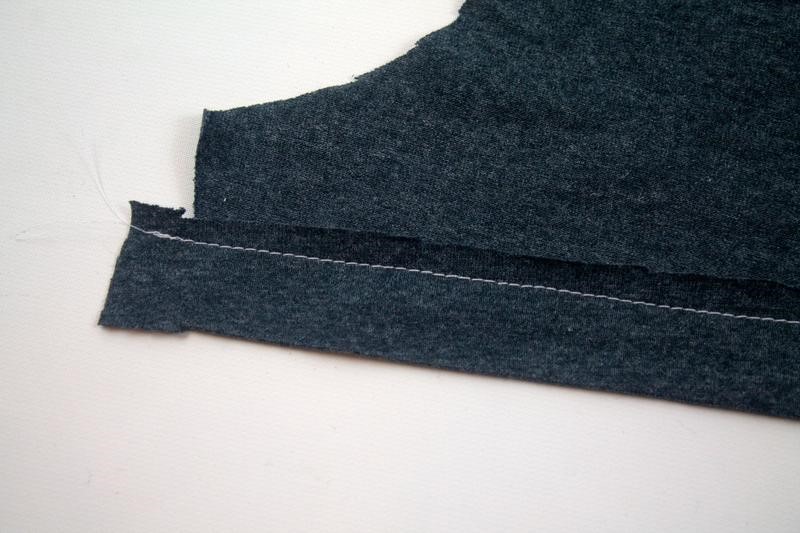 Step 5
Sew the hems into place by sewing 5/8″ from the folded edge. There will be little tags on the ends and that's okay. You want to sew with a walking foot if you have one as it makes sewing with knits so much easier. Sew with a zig zag stitch or an elastic stitch so it will stretch a little.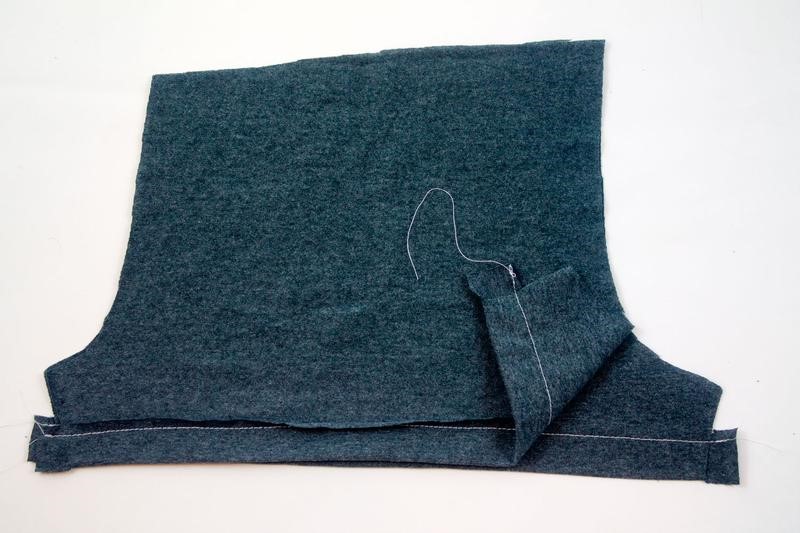 Step 6
Place the two halves on top of each other, with the wrong sides facing together.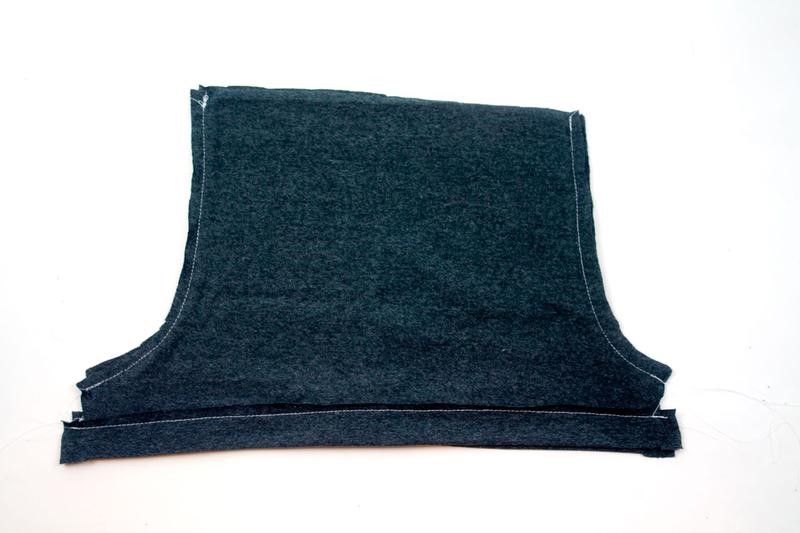 Step 7
Sew the "front center seam" and the "back center seam" 3/8″ from the edge. This is best done with a walking foot, and a zig zag stitch or elastic stitch.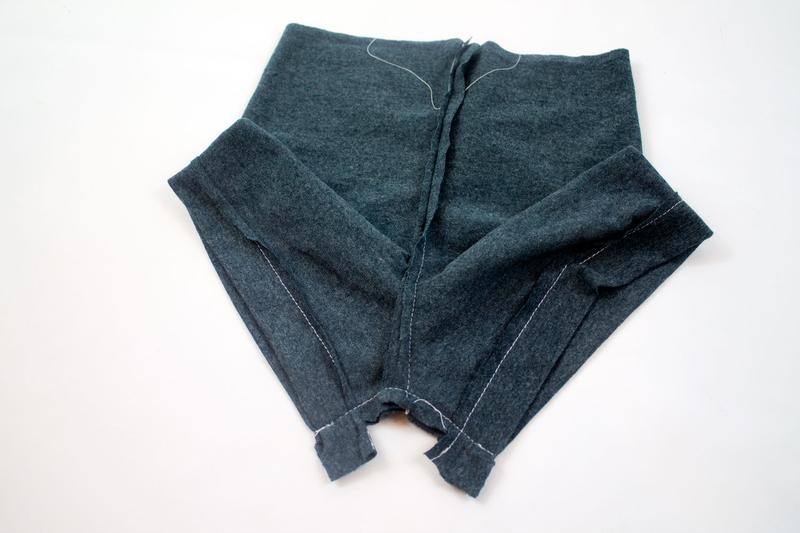 Step 8
Adjust the shorts so the center seams are in front and back. Line up the leg holes and sew the inner legs of the shorts. Sew 3/8″ from the edge.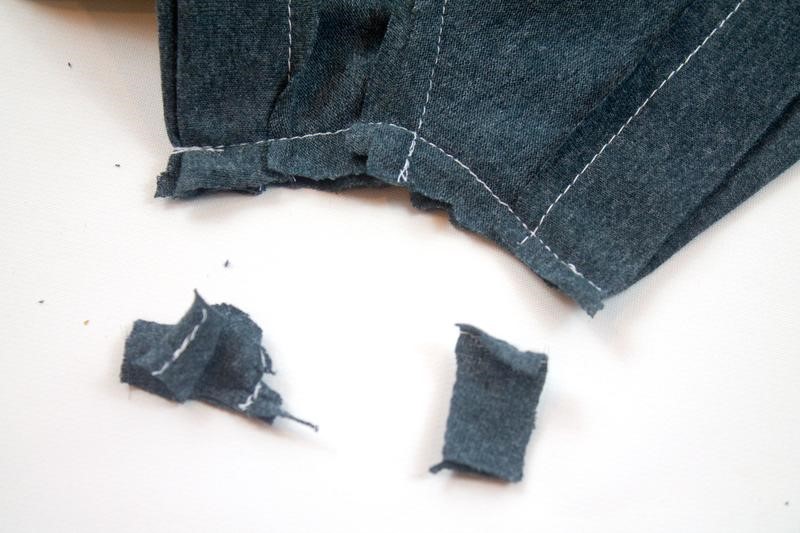 Step 9: Cut off the tags on the inner leg area.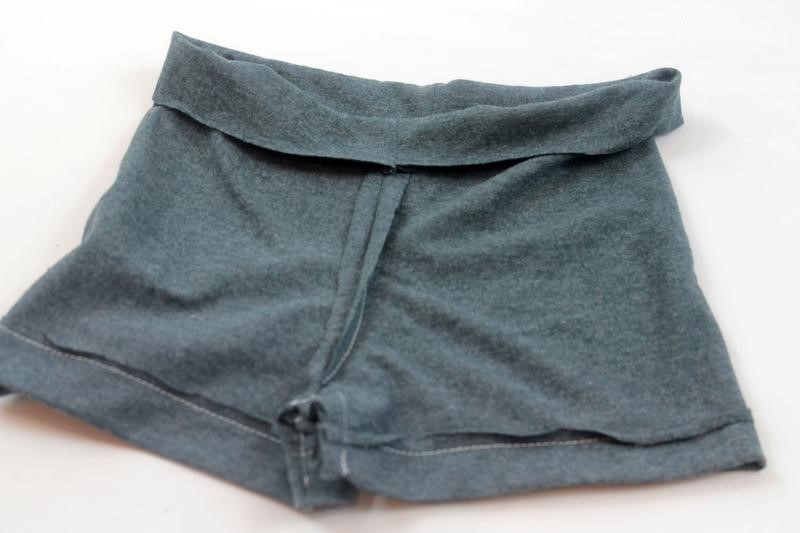 Step 10
If you read the printable PDF version of this freebie, I do this differently. Because I added extra length to the waist height, you can adjust the height to suit your needs. Today, my needs were to use the 1″ elastic that I had on hand, rather than the 1/2″ that the pattern tutorial suggests. I also prefer to use a wider elastic in my waistbands with bigger babies.
Today I folded the top of the waist band over about 1 1/2″.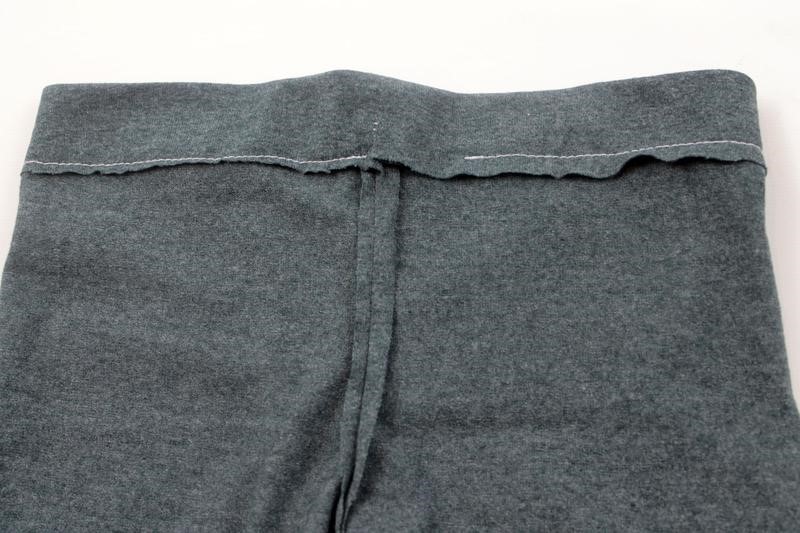 Step 11
Then I sewed the folded edge into place. This successfully makes a casing for elastic. In the back I left a 2″ opening to "fish my elastic" through.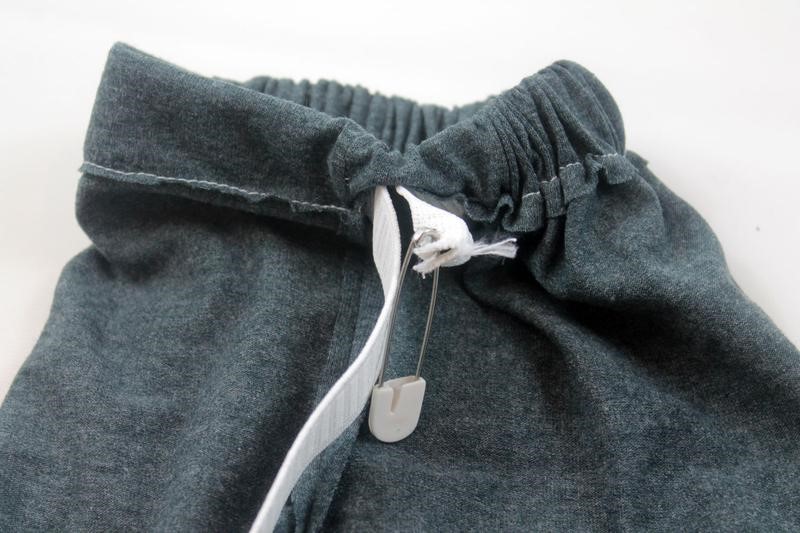 Step 12
Then use a large safety pin attached to one side of the 18″ of elastic (this diaper pin is my favorite for this job!), and threaded it through the casing. I made sure that it was not twisted inside the casing.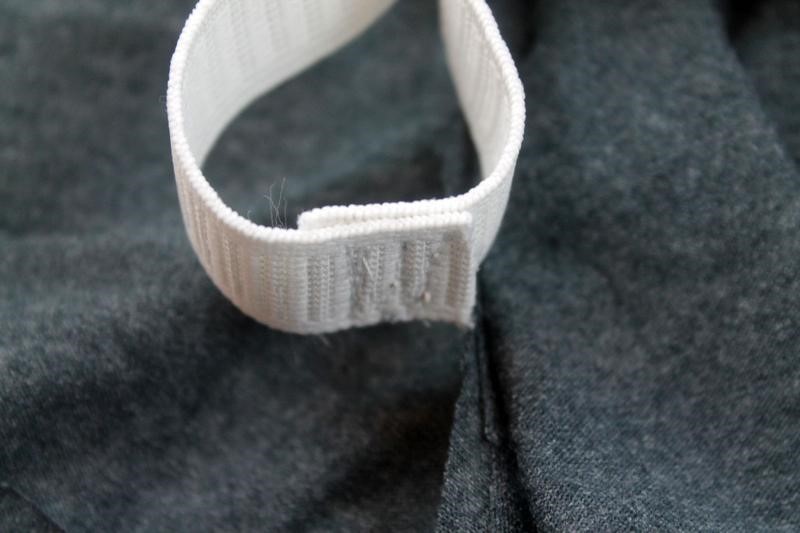 Step 13
Overlap the elastic on top of itself 1/2″. Sew the overlapped portion to keep it together.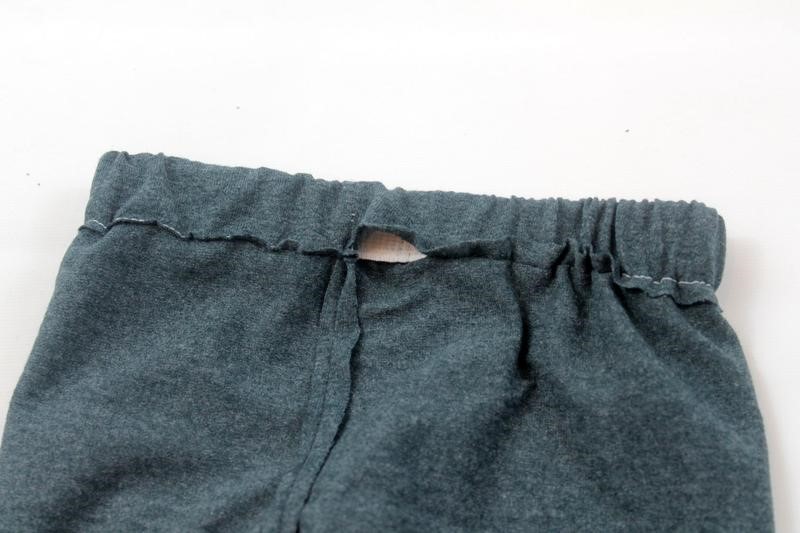 Step 14
Pull the waistband snugly and use your fingers to evenly gather the shorts around the waistband. Tuck the band into place inside the 2″ opening.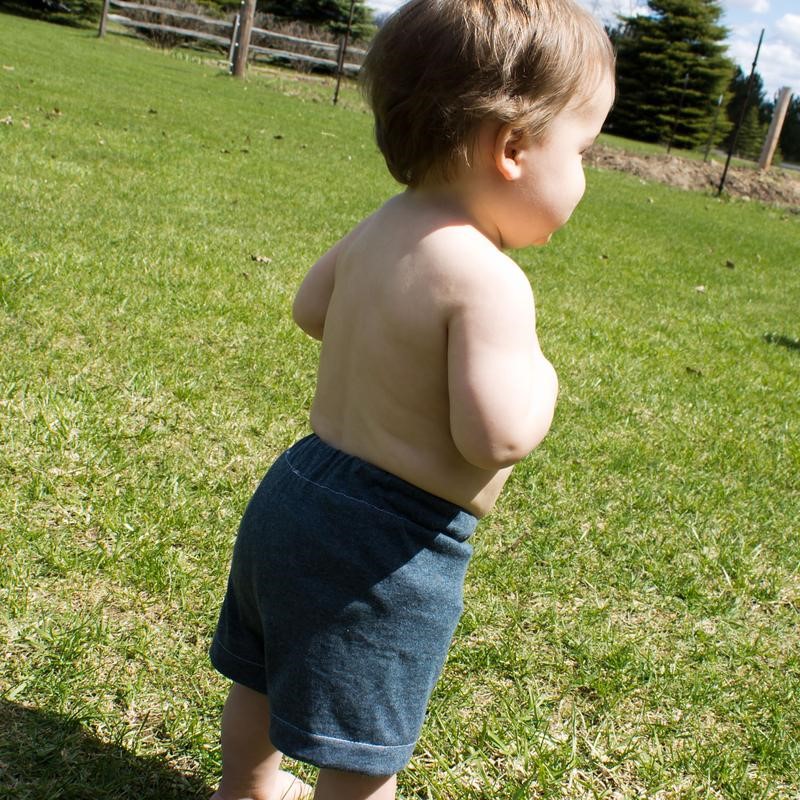 Step 15
Sew the 2″ opening closed. I was so excited to try these on Elijah that I completely forgot to take a picture of this step!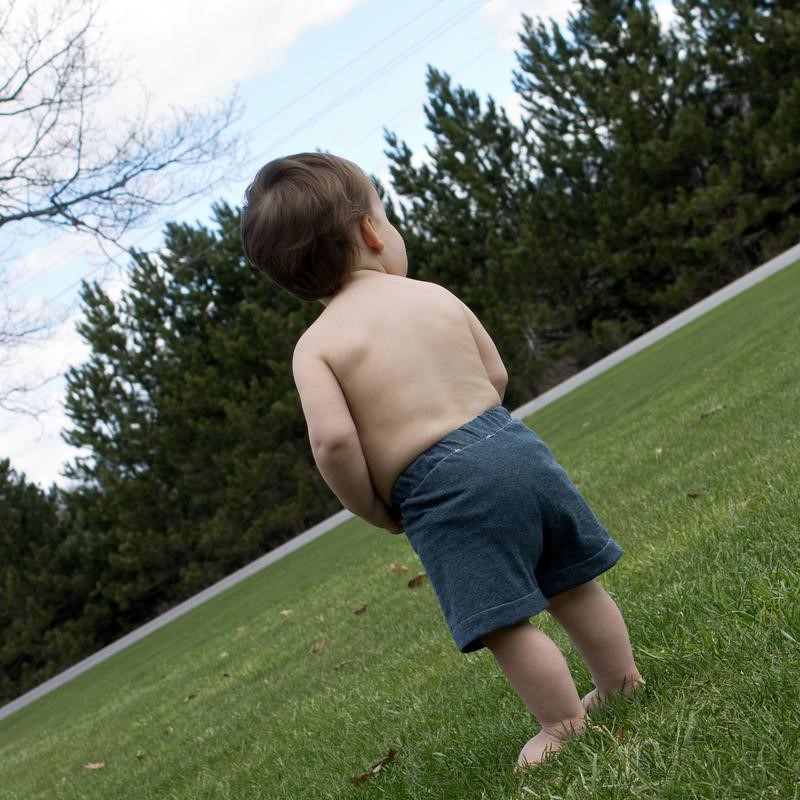 I hope this tutorial helps you get your baby summer wardrobe full and that you are able to recycle some t-shirts of your own. Happy sewing!