This review was written by Kati; she really enjoyed making the Lotus tunic with cap sleeves and plans to wear it to upcoming weddings
Please note that the design includes patterns for the Lotus tunic, dress and cami.
Pattern
Amy Butler Lotus Tunic & Cami
Description
There were several different options to create this garment. I chose to do the tunic length with capped sleeves.
From the pattern: Modern, feminine designs perfect for every occasion! Sweetheart neckline with subtle curves gives this tunic it's "signature" style. Make yours with or without sleeves.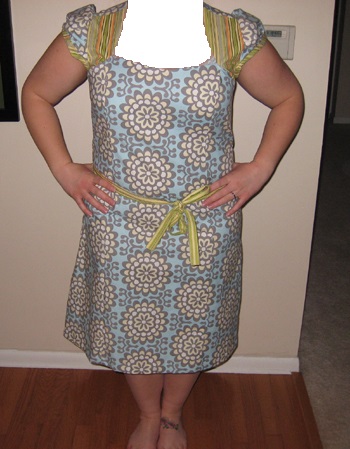 Fabric Recommendations
The pattern recommends muslin for the lining, but I had nylon lining available, so I decided to use that instead. I prefer the way it allows the cotton of the main fabric to lay, and this way I don't have to worry about it bunching as much when I wear it.
Materials
You can find a list of materials via the Lotus Tunic & Cami in the store. Click "View Larger Image" below the pattern image for a full view of the back of the pattern.
I used Amy Butler's lotus wall flower pattern in sky for the main fabric, and the oxford stripe in green for the accent fabric. I used nude colored nylon fabric to line the entire dress. I also used a gray invisible zipper to match the main fabric.
Overall Design
This design is very flattering on several different body shapes, which is why I decided to make it. There's also a lot of versatility to the pattern, and because I like the way the top of the dress fits, I am planning on making a cami for the summer. Also the sweetheart neckline is subtle, and yet very fashion forward which was part of it's appeal.
Written Instructions
Amy provided mostly clear instructions, but as a newbie, I definitely needed to refer to the glossary several times. The definitions in the glossary were very helpful and were a large part of the success I had with making the dress. I can see how this pattern would be great for both beginners and experienced sewers alike.
Diagrams / Images
I would like to have seen more pictures, but the ones that were included added a lot of value.
Pattern Pieces
The pattern pieces were very clearly labeled for sizes, quantity needed and name of the piece. Most of the pieces are used in several of the garments, which helps to keep everything organized.
Modifications & Tips
Make sure that you measure your torso and adjust the pattern as needed. Next time I make this, I will use more of the accent fabric for the side panels, just to spice it up.
Conclusion
Overall this pattern was a great experience for me, and I learned a lot about apparel construction and design. I think it definitely stretched my skills as a sewer, but that made it all that much more rewarding when i put it on and it fit!
Lotus Tunic Pattern Review