Pattern
The Swing Bag — Amy Butler Midwest Modern
Description
Reversible shoulder bag and scarf/sash.
Materials
Exterior Fabric: 5/8 yard
Reversible Side Fabric (optional): 5/8 yard
5/8 yard of cotton Canvas
Swing Bag Pattern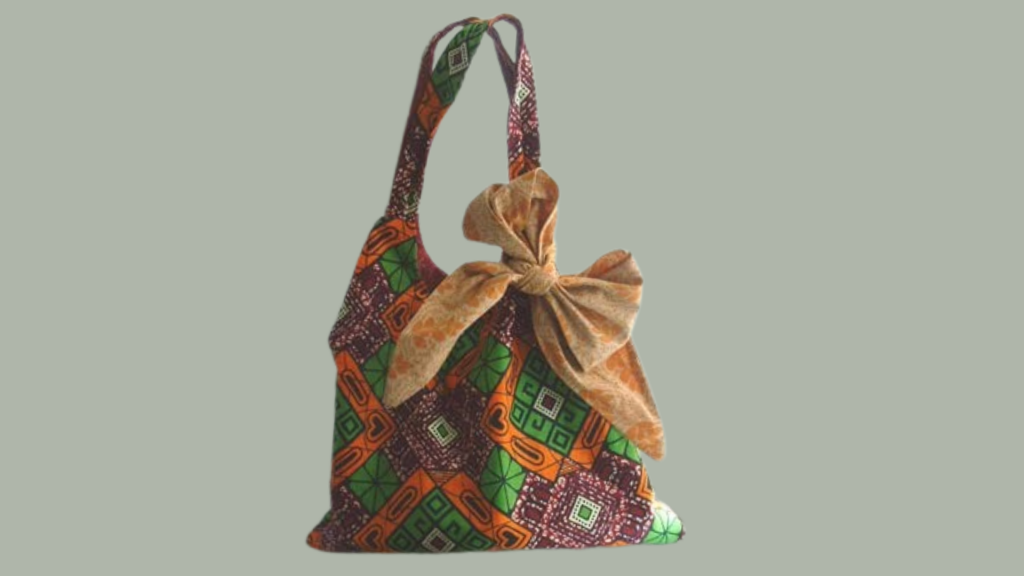 Overall Design
This is a cute bag with a nice size and shape. It is quite large and may be a little overwhelming in size on a smaller person (I am 5'8″) but it easily fits books, wallet, cell phone, water bottle, etc. There is a layer of cotton canvas sewn between the interior and exterior fabrics, which makes the bag nice and stiff, and gives it some weight. I particularly like the way that the straps incorporate a little pleat at the base of each- I think this adds nicely to the style, although it was a little tricky and mine didn't turn out perfect.
The main reason that I wanted to make this bag is that it has a coordinating scarf, and I am a huge scarf person. The scarf is cut on the bias, which makes for a lot of extra fabric, so I would caution anyone making this to buy a fabric for the scarf that they will want to use for another project! I found that the scarf is just a little short for me, but I will probably use the pattern to make more scarves, and extend the length.
Written Instructions
The written instructions for this pattern were very clear. The only part that was a little tricky was making and attaching the straps, but this was detailed and easy to follow. It is a very simple pattern. There are instructions to clip the corners and trim the seam allowance in order to make for nice edges and curves, which I thought was a nice touch for beginners.
Diagrams / Images
The diagrams included in this pattern made it very easy to visualize how the interior and exterior pieces were going to come together. For me, they added a lot to the instructions- if you are a visual learner you can almost go by the diagrams alone and finish the bag with success!
Pattern Pieces
The pattern pieces for this bag are fantastic. This is the first pattern that I think I will actually reuse, and offer to friends to use- because of the fact that the pieces are nice and stiff, and fold back up easily to be stored in the cardboard folding piece that they came in. After using only patterns printed on tissue in the past, this was such a welcome difference!
Overall Level of Difficulty
This is a simple pattern for beginners, and I think it would be especially good for a young person- because you get to pick out three different coordinating fabrics, and that is the most fun part! At the end there is a little bit of hand-stitching, just to finish off the top after the bag is turned inside-out.
Modifications
If I made this bag again, I would probably include an inside pocket, and a button or other closure on the center of the top. Obviously the bag was not designed with these features because it is supposed to be reversible- but I doubt I will ever reverse it, and right now it seems just a little plain. I think it would also be interesting to scale down the size just a little bit- right now it is very generous in size, but the shape would also be cute in a smaller bag.
Fabric Recommendations
This was a great opportunity for me to use a really fun fabric- an African print that might be overwhelming in any larger project! I had a lot of fun picking out the coordinating fabrics, and the interior and scarf are both 100% cotton. The scarf is a little scratchy but I don't think I could have found a blend that would have really "gone" with the overall look of the bag.
Conclusion
This pattern is fun and quick. I had quite a bit of leftover fabric, so it might be a good way to use up any odds-and-ends from past projects. This is a nice, big bag for daytrips- and I look forward to using it on some this summer!