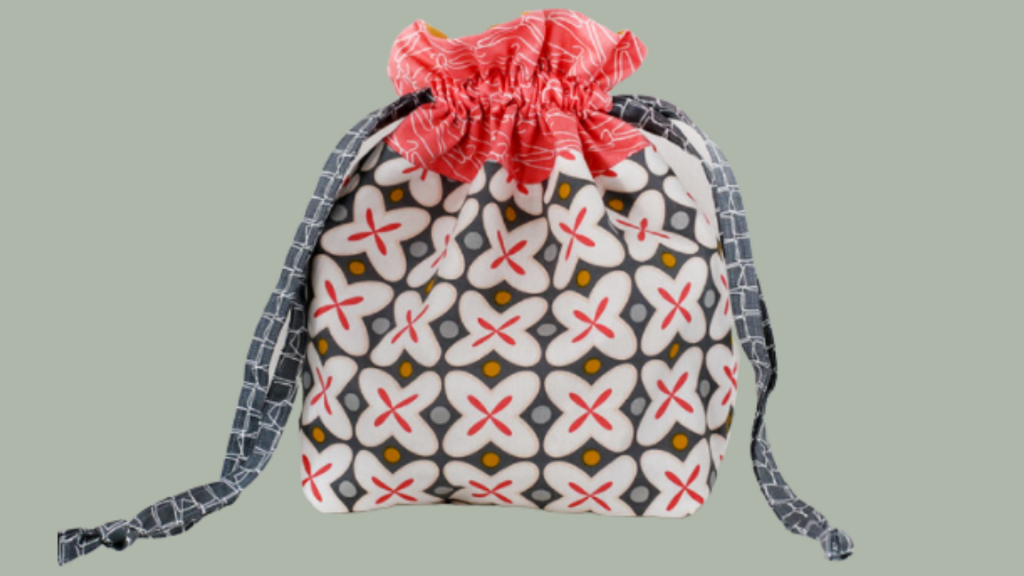 Drawstring Purse Pattern
The pattern has instructions and measurements for making a 10″ wide x 14″ tall drawstring bag with handles. It also includes one full size pattern for the Smart Handbag (separate review), a 10″ x 10″ bag with handles and a very "finished" look.
Materials
1st Coordinating Fabric: 1/8 yard of 44″ mid-weight cotton (handles and drawstring)
2nd Coordinating Fabric: 1/4 yard of 44″ mid-weight cotton (top section)
3rd Coordinating Fabric: 1/8 yard of 44″ mid-weight cotton (middle section)
4th Coordinating Fabric: 1/4 yard of 44″ mid-weight cotton (bottom section)
5th Coordinating Fabric: 1/3 yard of 44″ mid-weight cotton (lining)
22″ each of two different ribbons
Scrap of fusible interfacing
1 spool of coordinating thread
Overall Design
The design is simple and lends itself well to embellishment and alterations for unique bags. It's a good, easy design. The inside of the bag can look a little bunchy with all of the seams hidden by the lining, but if you press it well it makes for a nice bag. Some pockets on the lining would help with a little in-purse organization (something I know I always need).
Written Instructions
The written instructions are excellent. They are clear and precise. The written instructions work well with the many diagrams to clearly inform you throughout the process.
Diagrams / Images
There are a lot of diagrams throughout the pattern and, as I was shopping for fabric, I really appreciated that there are two versions of each bag in full cover on the front of the pattern.
Pattern Pieces
There are no pattern pieces for this purse, and they aren't really necessary. There are instructions for how to make your own pattern, but cutting the pieces works fine (it's handy to have a clear, wide ruler, roller cutter and cutting mat).
Overall Level of Difficulty
This would be a fun project for someone fairly new to sewing. The edging can take a little practice, and button holes for the ties can be tricky on some machines. Overall though this was an easy bag and it was easy to visualize how the pieces worked together through the whole process.
Tips
It's essential to press to avoid bunchy seams. Do not do what I did. As I was shopping for fabric I liked three specific fabrics together and simply combined yardage to buy the same total amount of fabric listed in the pattern. After cutting the exterior pieces I ended up without the right dimensions of fabric left for the interior and used some old fabric I had on hand to make up the difference.
Modifications
You could modify this basic pattern any number of ways for myriad looks and dimensions. The pattern suggests embellishments of buttons, beads, or vintage jewelry pins or beaded fringe. Instead of ribbon I used some vintage bias tape to hide the seams on the exterior panels. The possibilities are endless!
Fabric Recommendations
While the pattern suggests a mid-weight cotton for this purse I think anything would work just fine. The heavier you go the more "finished" it looks, and lighter fabrics give it a summery, casual feel. It's fun to really mix your fabric choices here (even to incorporate bits of fabric from your stash). I love the versions I've seen that include stripes in the middle section to delineate more wild, flowery fabrics on the top and bottom.
Conclusion
This is an easy, basic pattern with lots of room for future alterations to create a variety of fun bags. The pattern would even be a good start for a beginning sewer who's motivated to create a nice, finished piece. You could start with this Drawstring Purse and then work on the Smart Handbag.
Drawstring Purse Pattern Review