Irene shows us the cute and easy new Oliver + S Sandbox Pants. This pattern comes in 6-12 mo-3T and sizes 4-8, making it a sure-fit for all of the kids on your sewing list
Pattern
Oliver + S Sandbox Pants Pattern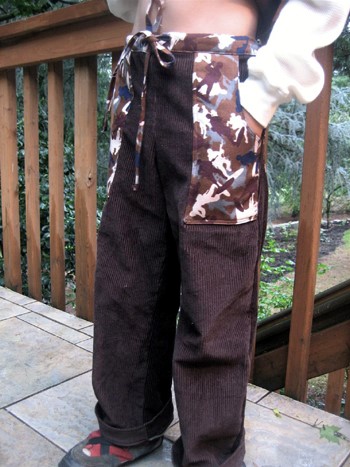 Sandbox Pants Pattern
Boy's or girl's pull-on pants have front patch pockets, button-through back patch pockets, elasticized back waistband, and drawstring at front waistband. (From the pattern envelope.)
Materials
I made these pants for my 6-year-old boy who just entered 1st grade. He's thin and has a hard time fitting into regular pants so I went down a size and made the pattern size 5. Augie usually wears a size 7 slim in jeans so I thought a size 5 would work. The pattern's fabric guide for the size 5 suggests 1 ¼ yards for the main fabric and ½ yard for the trim fabric.
I used a little less for both, but it's always better to have more rather than not enough. For notions, I used two ½" buttons, ½ yard of 3/8" elastic and matching thread. If you are making pants from corduroy or something similar, make sure your elastic is a strong one. I first had some wimpy cotton stuff that wasn't strong enough to hold the pants up. Try to use the thicker non-roll polyester type if you can.
Fabric Recommendations
The pattern suggests light- to medium-weight woven fabrics like quilting cottons, broadcloth, canvas, corduroy, denim, poplin, and seersucker. It also suggests a lightweight fabric for the waistband. I used corduroy and was happy with the result. My first choice was linen, but with the change of seasons, I went with a heaver fabric. I made the pockets, waistband and drawstring out of woven cotton that is a little thicker than your regular cotton. The fabric was thick enough so that the pieces held their shape well, but thin enough as to not add more bulk to the thick corduroy pants.
Overall Design
These pants are the most detailed pair I've ever made. I love all the pockets and the look of the elastic-drawstring waistband. Depending on your choice of fabric, you can easily sew these pants for casual play or a more formal look. The only reason I did not give the pattern 5 stars was due to the waistband. There are 4 seams which you must fit your waistband around: the 2 side leg seams and the 2 crotch seams. I found it hard to fit the waistband to the top of the pants.
I had to adjust the waistband seam because my band was too short to make it all the way around the top of the pants. I think the key here is that you must be precise in your seam allowance with those 4 seams so that your finished waist is the size it should be. (I was not which is probably the reason I had this difficulty.)
Written Instructions
I've made several pairs of pants, but mostly the pajama type. This pattern has banished all my fears of making front pockets. The instructions were clear and pocket designs easy to sew. There are several great hints throughout the pattern which I plan on using again in many other sewing projects.
Personally, the best part of the instructions was that for each new seam, the seam allowance or hem allowance was stated right in the written step! I loved not having to dig around for the pattern piece again to find what size hem to sew or having to re-read the paragraphs of instructions at the beginning of a pattern to find the overall seam allowance. It's a small detail, but one I was happy to see.
Diagrams / Images
In my experience, it is rare to find a pattern with an illustration along with almost every step. This pattern has clear, uncomplicated illustrations which provides another explanation or clarification of the step.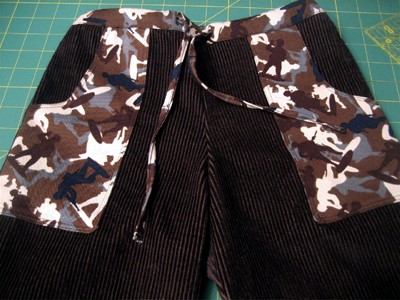 Pattern Pieces
The pattern is printed on paper which is a little thicker than the usual stuff. My children love to step on patterns while I'm trying to trace them so this pattern has held up well in a three-kid household. Also since the pattern was black ink on white paper, it is easier to trace. There is a small error on the waistband pattern piece and front pocket pieces which is corrected on their oliver + S website in an errata located at the bottom left of the page. Basically, the waistband piece should indicate to cut 1 not 2, and the size numbers are transposed at the bottom edge of the pocket pieces.
Overall Level of Difficulty
I consider myself an intermediate level sewer so I was able to sew these pants in several hours with little problem. If you are a true beginner who has never sewn from a pattern, this pattern may take you several evenings to complete. There are many steps due to the 4 lined pockets, buttonholes, waistband and drawstring. Each step is not difficult to sew, but will take time if you haven't any experience. The completed pant with all the great details is well worth the time.
Modifications + Tips
Since my son is little, I had to take in the pants a little more in the hip area and length. I should have paid more attention to the body measurements chart! I also had to add a little to the waistband width so I suggest you measure your waistband piece before sewing it together. You may have to adjust the seam allowance a little if the measurements aren't the same. I like the suggestions for all the top stitching.
I would only add that you start sewing with a new needle and be sure that your needle size can handle your chosen fabric weight. A neat top stitch can only be accomplished with a sharp needle of the correct size. Also, don't worry if the bottoms of your pant legs don't match up after sewing all the side seams. In just about every pair of pants I've sewn, I rarely have the bottoms match. I simply trim the bottoms to match before sewing the hem.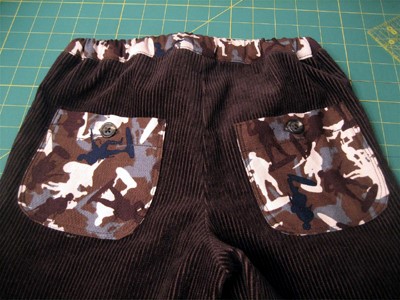 Conclusion
These are the first pair of pants I've sewn which cannot be mistaken for pj's. They have a good amount of detail, but are still easy enough to be sewn in an evening. I can see myself making many more of these without difficulty and easily impressing others with my new pocket skills! I'm sold on oliver + S patterns due to their easily accomplished classic style.